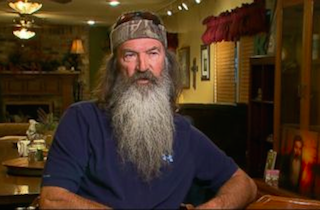 The uproar last December over controversial comments he made to GQ magazine has evidently not deterred Duck Dynasty patriarch Phil Robertson from speaking his mind about his moral opposition to homosexuality. On Tuesday, Robertson brought his media tour to promote his new book, unPHILtered: The Way I See It
, to Tony Perkins' Christian-themed radio show, where he echoed decades-old theories about HIV/AIDS to condemn "immoral" conduct like gay sex.
Just last week, Robertson told Good Morning America that he is "as much of a homophobe as Jesus was," and now, answering a question from Perkins' about his refusal to "conform" to political correctness from "cultural bullies," he delivered a brand new rant on the "physiological downside of immorality."
"Is this coincidental that viewing all of the immoral conduct that America is now participating in… Do you think it's a coincidence," Robertson asked, "that all of these debilitating — literally that can cause death — diseases follow that kind of conduct?"
"God says, 'One woman, one man,' and everyone says, 'Oh, that's old hat, that's that old Bible stuff,'" Robertson continued. "But I'm thinking, well let's see now. A clean guy — a disease-free guy and a disease-free woman — they marry and they keep their sex between the two of them. They're not going to get chlamydia, and gonorrhea, and syphilis, and AIDS. It's safe."
RELATED: Phil Robertson Tells Hannity How He'd Combat ISIS: 'Convert Them or Kill Them'
"To me, either it's the wildest coincidence ever that horrible diseases follow immoral conduct, or, it's God saying, 'There's a penalty for that kind of conduct.' I'm leaning towards there's a penalty toward it," he added. "If you want to be safe from a lot of debilitating diseases," Robertson said, the "route to go" is "one man and one woman," as God intended.
Robertson did not allow for the possibility that one man and one man, or one woman and woman, could produce a similar effect.
Listen to audio below, via the Family Research Council (as clipped by Good As You):
[h/t ThinkProgress]
[Photo via screengrab]
— —
>> Follow Matt Wilstein (@TheMattWilstein) on Twitter
Have a tip we should know? tips@mediaite.com