Presenting The Cutest Puppy Ever Involved In An Incident Of Alleged Police Brutality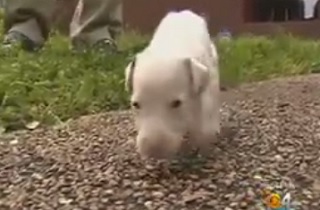 Miami-Dade Police are taking heat over their use of force in the arrest of 14 year-old Tremaine McMillian, after the teen's mother produced cellphone video of police using a choke hold to subdue him. Police say that McMillian posed a threat because, among other things, he gave them "dehumanizing stares."
Also injured in the incident, according to McMillian, was Polo, the aforementioned Cutest Puppy Ever Involved In An Incidence Of Alleged Police Brutality. Don't believe me? Check out the local CBS station's report, and tell me Polo isn't the most adorable thing you'll ever see in a news report about alleged police brutality:
They slapped the puppy out of his hands?
It's anybody's guess how McMillian and Polo would have been treated if his mom hadn't been filming the whole thing, but there's another painfully adorable detail that was left out of that report. Here's what Miami-Dade Police Detective Alvaro Zabaleta told CBS 4:
Miami-Dade Police Detective Alvaro Zabaleta told D'Oench it was just after 11:00 am on Memorial Day on Haulover Beach when officers saw McMillian slamming another teenager on to the sand.

"They told him that behavior was unacceptable," said Zabaleta. "He walked away and officers followed him. They asked where his parents were. He said he was not going to take them to them. When he started to leave the beach area, officers had to get off their ATVs to detain him. He had closed arms, clenched fists and pulled his arm away."

"Once he was approaching the road, the officers restrained him. Again his body language was that he was stiffening up and pulling away," said Zabaleta. "Now you're resisting officers at that point and when the hands are swinging and you are resisting officers, at that point you have to be taken into custody."

"Of course we have to neutralize the threat," said Zabaleta. "When you have somebody resistant to them and pulling away and somebody clenching their fists and flailing their arms, that's a threat."

He said the police report did not indicate that a puppy was involved.

"At that point we are not concerned with a puppy," said Zabaleta. "We are concerned with the threat to the officer."
So, the police don't seem to be disputing that the puppy was there, just that he didn't merit inclusion in the report. But if the puppy was there, then how do police explain this?
"How could I be clenching my fists when I was taking care of my puppy and giving him some milk with a bottle?" asked McMillian.
Awww! He was feeding the puppy with a baby bottle!!
If McMillian was, indeed, bottle-feeding his painfully adorable puppy as he fled police, that leaves only those "dehumanizing stares" as provocation for the takedown and choke hold. If that's the new standard for the use of force, the construction workers of the world better take up Krav Maga.
The takeaway from this story, for many, is that the cops in this case were dicks, but as my friend Goldie Taylor would likely point out, 14 year-old teenagers, especially black ones, would be best advised to politely do whatever the police ask of them, within reason. If the police had been jumpier, or Tremaine's mom hadn't been there with that camera, or he had been holding something other than an adorable white puppy in his hands, it could have been a lot worse.
Have a tip we should know? tips@mediaite.com