NFL Report Reveals Tom Brady 'At Least Generally Aware' of Attempts to Deflate Balls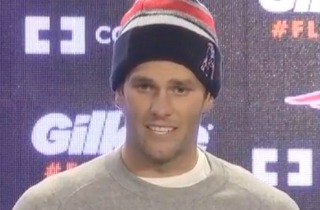 An independent report into Deflate-Gate, a.k.a. the media's weeklong excuse to make ball jokes about the New England Patriots, concluded that "it is more probable than not" that two Patriots employees "participated in a deliberate plan to circumvent the rules by releasing air from Patriots game balls," and that quarterback Tom Brady was "at least generally aware" of the plans.
(Excuse me while this Patriots fan scream into her pillow. NOOOOOOOOOOOOOOOOOOOOOOOOOOOOOOOOOOOOOOOO. Okay, back to reporting on my heartbreak.)
According to the 243-page report, compiled by attorney Ted Wells, the deflated balls were likely the result of a lone-wolf attack carried out by locker room assistant Jim McNally and equipment assistant John Jastremski, and was not part of any plot by Bill Belichick, his coaching staff, the head equipment manager, or the Patriots organization itself. However, the report does say the following:
Based on the evidence, it also is our view that it is more probable than not that Tom Brady (the quarterback for the Patriots) was at least generally aware of the inappropriate activities of McNally and Jastremski involving the release of air from Patriots game balls.
The scandal, which occurred during the AFC Championship Game last season, involved at least five under-inflated footballs, which would be easier for Brady to handle during the game. Brady and Belichick denied knowledge about the soft balls at the time, and the team eventually went on to win the Super Bowl.
Update (2:30 p.m.): The report pointed to some of the texts sent between Jastremski and McNally on their Patriots-provided work phones, which alluded to their work with Brady's balls.
Text message exchange between two Pats employees about Tom Brady & getting his footballs ready. Damn. pic.twitter.com/oGBksapACj

— Jimmy Traina (@JimmyTraina) May 6, 2015
Although there were no similar texts from Brady regarding his balls, the report did note that "additional evidence of Brady's awareness includes a material increase in the frequency of telephone and text communications between Brady and Jastremski shortly after suspicions of ball tampering became public on January 19." The contents of those calls are unclear, so it could have either been Man, why did you deflate those balls, dude or Where can we bury the bodies, etc.
Patriots owner Robert Kraft released a statement saying he was "disappointed" in the report's findings, and criticized it for some key misrepresentations, such as ignoring the Colts' similarly underinflated footballs during the AFC Championship, and claiming that some Pats organization members were unable to be interviewed.
"While I respect the independent process of the investigation, the time, effort and resources expended to reach this conclusion are incomprehensible to me," he wrote. "Knowing that there is no real recourse available, fighting the league and extending this debate would prove to be futile."
Read the full report below, via the NFL:
[Image via screenshot]
—
>> Follow Tina Nguyen (@Tina_Nguyen) on Twitter
Have a tip we should know? tips@mediaite.com