Satirical Story Convinces Twitterverse That Todd Akin Believes Breastmilk Cures Homosexuality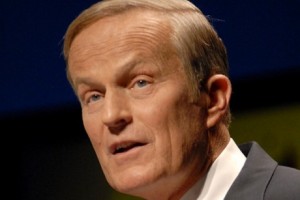 The satirical online newspaper The Daily Currant took a solid stab at Rep. Todd Akin, publishing a piece entitled "Todd Akin Claims Breastmilk Cures Homosexuality." Given the very public shaming of the Missouri Senate hopeful, some were a bit confused about whether the piece was satire or fact.
A highlight from the Currant's piece:
The Republican congressman, already under fire for his controversial comments regarding rape, told a reporter for Cape Giradeau's KBSI 23 News that "female breastmilk – when fed directly to an adult homosexual male daily for at least four weeks – has a 94% chance of permanently curing homosexual perversions."
As the Huffington Post pointed out, KBSI 23 News does exist, but Akin never appeared on it. Nor has he, you know, made comments about breastmilk and homosexuality. The story even offers a conspiracy theory:
Akin then explained, "The National Institutes of Health has treated hundreds of young men through clinical trials at their headquarters in Maryland. They don't want the public to know because the secular liberal elites have succeeded in brainwashing the public into believing that homosexuality is a positive thing."

"We now know how to purge men of sin and put them on a path towards god. Why can't every gay man in America have that knowledge? Just 4 weeks of live breastfeeding can cure them of their terrible suffering. Why aren't we talking about this?"
The Celebrity Cafe was among those initially fooled — later updating the story with a correction. While some caught on, others in the Twitterverse were a little confused:
Hope either @capehartjor @charlesmblowwill go off intellectually on this ignoramus Congressman bit.ly/Tg6pkl #lgbt

— Monique Hall (@CorporateDem) August 28, 2012
Akin: graduate from accredited school? What schools? How can he function? He's a Congressman? Aaugh! RT @sharrednourdailycurrant.com/2012/08/26/tod…"

— Frederick D. Lazar (@chaosfdl) August 28, 2012
No, this is not a story out of The Onion: Todd Akin Claims Breastmilk Cures Homosexuality dailycurrant.com/2012/08/26/tod…

— Jeff Gulati (@JeffGulati) August 28, 2012
No, it's not from The Onion, Mr. Gulati. He later tweeted, after someone informed him the Currant is also satire, admitting that it was "really well done and very believable." We're at that point, that point where this is believable.
Have a tip we should know? tips@mediaite.com