Sean Penn, Kid Rock Star In Bizarre Political PSA Promoting Tolerance, Parodying Stereotypes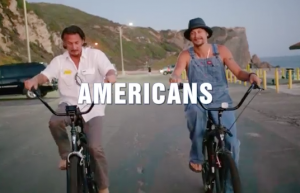 Sean Penn and Kid Rock hail from opposite ends of the political spectrum — but they came together in a new PSA to encourage you to be tolerant and unified, too.
Entitled "Americans," the piece, which runs nearly 11 minutes, "to tear down the one-dimensional political stereotypes portrayed by the media by confronting them head on." And, indeed, the video, laced with explicit language, is chock full of stereotypes — be it about gay marriage or PETA or gun rights.
"It reminds us that what really matters is that we're all Americans, with diverse thoughts, opinions and stances on issues," the video's YouTube description reads. "We are millions of unique, individual parts, the sum of which comprise a whole that is the shining beacon of freedom throughout the world."
The video starts out with the two getting into a confrontation at a bar, where Rock's "Born Free" performance at a Romney event is playing on the television. After many an insult, the two come together, hug it out.
From there on, the video (which features Uncle Kracker's "Smile" playing in the background, not subtly) is largely a montage of the two bonding. With an environmental protest, a gay wedding and a Toyota Prius purchase. (Rock adorns the hybrid car with antlers and a gun rack.)
The central message is displayed on the screen as the video comes to an end: "Don't let politics divide us. Thinking differently. It's what made this country great."
And more importantly: "Americans, fuck yeah."
The video below:

(H/T Gossip Cop)
Have a tip we should know? tips@mediaite.com