'He Lost His Mind': Esteban Santiago Identified as Fort Lauderdale Airport Shooter
Florida Senator Bill Nelson identified the name of the alleged shooter at the Fort Lauderdale-Hollywood International Airport during a Friday afternoon hit on MSNBC.
Senator Nelson told the cable news net during an interview Friday afternoon that the alleged gunman's name is Esteban Santiago. At this time, five people have been killed at the airport, which has been evacuated.
ABC News reports that the shooting took place at Terminal 2 of the airport. CBS Miami affiliate WFOR has footage of passengers on the tarmac after Terminal 2 was evacuated. CBS News reports that one victim is "bleeding profusely." People have been evacuated from the main terminals onto the runways, with reports of panic and confusion breaking out in the airport immediately after the initial shots were fired.
Senator Nelson revealed that Santiago had a military ID, though it was unclear at this time if that ID was current or expired. Nelson said that he was told the name of the shooter by the head of the TSA, taking to both MSNBC and CNN airwaves in the last several minutes to reveal the name of the shooter. Additionally, Mayor Barbara Sharief of Broward County Florida reported shortly ago on CNN that thirteen people have been transferred to area hospitals at this time.
UPDATE 3:12 PM ET: Law enforcement sources are saying Santiago is 26 years old and born in New Jersey.
NBC News: Multiple senior law enforcement sources say Esteban Santiago born 3/1990 is in custody. Had military ID on him. Born in NJ.

— Tom Winter (@Tom_Winter) January 6, 2017
UPDATE 3:35 PM ET: Shooter flew in on a Canadian flight with a checked gun and loaded the gun in the bathroom. He then came out shooting in baggage claim.
Broward County Commissioner says Ft. Lauderdale shooter was passenger on Canadian flight w/ checked gun https://t.co/1P9H6T7txD

— Salvador Hernandez (@SalHernandez) January 6, 2017


UPDATE 3:42 PM ET: CNN verified the report that Santiago checked in firearms and was on a Canadian flight from Alaska. He retrieved the firearms from his luggage, loaded them in the bathroom and then came out in baggage claim and began shooting.
UPDATE 3:52 PM ET: Santiago lived in Anchorage, Alaska from 2014 to 2016 and was a member of the National Guard. He has a record of petty crimes, including non-payment of rent, domestic violence and property damage.
UPDATE 4:32 PM ET: CNN is reporting that witnesses have said that Santiago got into an altercation on the plane that could have led to the shooting. Also, CNN reports he is in the Army.
UPDATE 4:36 PM ET: Air Canada is claiming that Santiago was not on one of their flights.
UPDATE: Air Canada says Fort Lauderdale shooting suspect was not on one of their flights, according to statement from spokesman.

— CBS News (@CBSNews) January 6, 2017
UPDATE 4:46 PM ET: Santiago's family has confirmed that this photo is of the shooter, per NBC New York.
BREAKING: Family confirms this is Esteban Santiago, the alleged Fort Lauderdale Airport shooter https://t.co/BfC8GDwEsX pic.twitter.com/qnd52erJTY

— NBC New York (@NBCNewYork) January 6, 2017
UPDATE 4:55 PM ET: CNN is also reporting that Santiago may have had mental health issues and the situation may have began on the flight. Also that he was in contact with the FBI.
UPDATE 5:00 PM ET: CNN has released a photo of Santiago.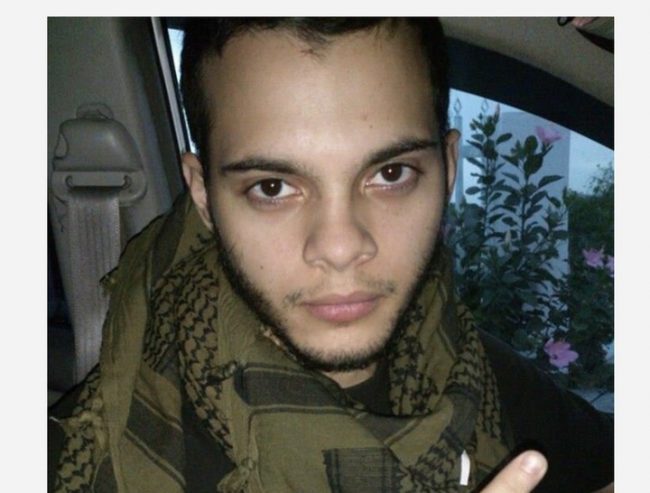 There have been other photos released as well.
BREAKING: Photos of alleged Fort Lauderdale Airport shooter Esteban Santiago, law enforcement sources tell CBS https://t.co/eE2vxuwNJG pic.twitter.com/oPYf34Y32L

— CBS Evening News (@CBSEveningNews) January 6, 2017
UPDATE 5:40 PM ET: Aunt of Santiago stated that "he lost his mind" in Iraq. He also spoke with FBI in Alaska in November, claiming he was being forced to fight for ISIS.
NEW: In Nov. 2016, FLL suspect walked into FBI office in Anchorage, claiming he was being forced to fight for ISIS, sources tell CBS News.

— CBS News (@CBSNews) January 6, 2017
UPDATE 6:05 PM ET: CNN reported that Santiago was hearing voices that told him to fight for ISIS, indicating he was suffering from mental health issues, and that he was checked into a hospital for a mental health evaluation. The network also reported that he first joined the Puerto Rico National Guard in 2007, served overseas, and was given a general discharge from the Alaskan National Guard in 2016 over "unsatisfactory performance."
UPDATE 10:30 PM ET: Anchorage police are stating that the only luggage Santiago traveled with was a hard case containing his gun.
Anchorage Airport police chief confirms Fort Lauderdale shooting suspect boarded Delta flight w no other bags other than gun in a hard case

— Salvador Hernandez (@SalHernandez) January 7, 2017
UPDATE: Saturday 7:30 p.m. EST: Santiago has been charged by federal prosecutors, meaning that he could face the death penalty or life in prison if convicted over the shooting.
UPDATE: – Tuesday, January 17 2:05 p.m. EST: CNN reports that during Santiago's bond hearing, FBI agents testified that Santiago carried out the attack in the name of ISIS.
Have a tip we should know? tips@mediaite.com