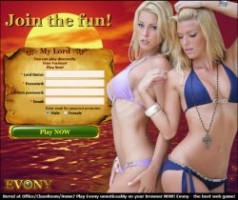 Porn stock photos used to sell a strategy game? If it was any game other than Evony, this might be more of a surprise.
Evony is pretty widely reviled among gamers/people who read the Internet, both because of its porny, exploitative ads and accusations that it has plagiarised of content from other games, but this could be a new low.
Negative Gamer's Wardrox did the sleuthwork to discover that Evony used a sleazy stock photo that also graced the cover of a low-budget porn DVD. Read about his process in this excellent post (and no, he doesn't have "disturbingly in-depth knowledge of 2007 low-budget porn").
Here's the cover of Girls Playing With Girls 102 as dug up by Wardrox, courtesy of Amazon: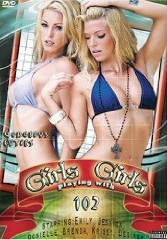 If this turns you off Evony but entices you to buy Girls Playing With Girls 102, you should read this cautionary one-star Amazon review of the film first:
This is the worst adult video I have ever seen (actually a tie w/Girls playing with Girls 101). Do not purchase it. You will be sorry. The girls on the cover are not the girls on the DVD. The women on the DVD look like they are on a 3 year meth binge, toothless and homely. Found on the street holding signs that say "will do nasty things for crack rock." I think I got a vanerial disease just watching this.
You heard that right: it's just as bad as Girls Playing With Girls 101. Rent it first?
Related:
Evony Girls, As Seen in Porn (Negative Gamer)
Evony Plagiarism — Spot The Difference (Hellforge)
Have a tip we should know? tips@mediaite.com