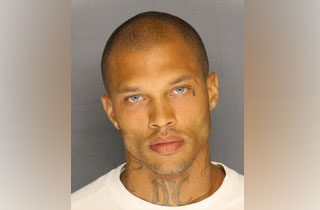 The story of "Handsome Convict" Jeremy Meeks has captured the goldfish-like attention of the media, and therefore the world, to the point where Hollywood is convinced that Meeks could turn his good looks into serious bank. For someone. Maybe for Meeks.
Which is why Gina Rodriguez, the woman behind media luminaries like Farrah Abraham, Nadya "Octomom" Suleman, and Donald Sterling associate V. Stiviano, has signed on as Meeks' manager, working to get him television shows and modeling contracts.
In an interview with FOX411, Rodriguez, a former porn star, said that while she didn't know all the details about his case, she wanted to help Meeks. "Everybody has a story, and I, of all people, know that," she said. "The types of personalities that I work with are usually the people who are under fire by the media. If this was a different situation, like if someone was actually hurt or there was violence involved, I definitely would not be taking him on. But we don't know Jeremy's full story yet, and I don't feel like he got a fair break. I really don't. If we can help him in any way with his future and help him turn his life around, that's what I'm about. That's what I want to do for him."
(She may be changing her tune after receiving death threats from Meeks's former gang associates.)
Rodriguez is already hustling to get him modeling gigs, considering his bail is set at $1.1 million. "I'm not exactly sure why it's so much money. That's what we're trying to figure now," she added. "We're trying to secure him some of these deals so that when he gets out, it can change his life, literally." She also added that she'd received death threats: "
For Meeks, this is inevitably a path out of poverty that absolutely will not end up with him doing degrading things for money and attention.
[FOX411]
[Image via Facebook]
—
>> Follow Tina Nguyen (@Tina_Nguyen) on Twitter
Have a tip we should know? tips@mediaite.com