Sharron Angle Runs Away From Reporters, Reporters Retaliate With Hilariously Spiteful Segment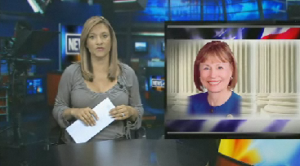 The old saying teaches that one should never get in a fight with someone who buys ink by the barrel, so it's really no surprise that the media-adverse ways of Nevada Senatorial candidate Sharron Angle would eventually get her in trouble. Recently, Angle invited members of the media to her first big press event since her primary win. However, once the event ended and the press tried to ask her questions, Angle bolted. The news team from NBC4, feeling jilted, decided to retaliate with a hilarious news report that plays like a dumped girlfriend's LiveJournal poetry about her ex-boyfriend.
There's just so much to enjoy here. First, the story itself, retold here by the Las Vegas Sun:
"It was the first time since her primary victory that she had agreed to mingle with the media. Political observers speculated it might signal a shift in Angle's post-primary strategy of using the media solely as fundraising mechanisms.

Alas, Angle's more media-friendly moment was over almost as soon as it began.

In the warehouse of a family-owned clean diesel manufacturer in Sparks, Angle delivered a three-minute speech on her desire to permanently repeal the estate tax. When invited by the final speaker to stay and answer a few questions, she turned on her heel and rushed out a back door with a small cadre of staff members.

Reporters, including one who is six months pregnant, chased after her, calling out questions on unemployment benefits and other topics she has largely refused to address."
Of course there was a pregnant reporter chasing her! Gosh, if we add a British bobby and a woman with huge breasts, we've got the makings of a classic Benny Hill bit.
But next came the report from News 4 which is just as great. Not having any answers from Angle to fill up the airtime, the reporters instead put together a brilliantly passive aggressive package. The best part is probably when they go out of their way and get a professor from the University of Nevada, Reno to watch the tape of Angle's escape and detail all the reasons it's a bad idea not to talk to the press. This story is, of course, not the first time Angle has gotten chased by pesky reporters who later took her to task in their segment.
Angle's team have accused the media of being biased against the candidate throughout the campaign. It's clear now that, if they weren't before, Angle's successfully making that proclamation true.
(via HuffPo)
Have a tip we should know? tips@mediaite.com