Sheriff Clarke Ordered His Staff to Harass Passenger Following Verbal Exchange on Plane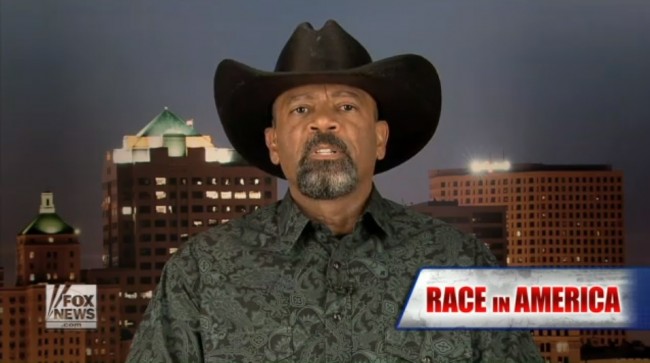 Back in January, it was reported that Milwaukee County Sheriff David Clarke had requested an airline passenger to be detained when the plane landed following a flight the two men shared. According to the passenger, Dan Black, he was briefly held by Clarke and other law enforcement officials after he shook his head at Clarke for wearing Dallas Cowboys gear. (Obviously, Milwaukee is Green Bay Packer country.)
Well, according to a report by the Milwaukee Journal Sentinel, Clarke sent a text message from the Dallas airport tarmac to one of his captains ordering the officer to harass Black when the plane arrived in Milwaukee. In the text, Clarke explained what he wanted to be done:
"Just a field interview, no arrest unless he become an asshole with your guys," Clarke wrote Captain Mark Witek. "Question for him is why he said anything to me. Why didn't he just keep his mouth shut?"

"Follow him to baggage and out the door," Clarke continued. "You can escort me to carousel after I point him out."
Black's attorney provided a copy of the text to the paper. Currently, Black is suing Clarke, a number of deputies involved and the county.
Clarke has been in the news lately due to his announcement that he'd accepted a position in the Department of Homeland Security. However, the DHS has not confirmed that they've hired him. This week, CNN's Andrew Kaczynski reported that Clarke plagiarized his master's thesis, causing Clarke to insult him while claiming it may cost him his DHS position.
[image via screengrab]
—
Follow Justin Baragona on Twitter: @justinbaragona
Have a tip we should know? tips@mediaite.com