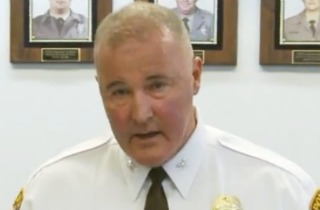 In a Facebook post Thursday afternoon, St. Louis County Police Chief Jon Belmar apologized for an earlier "offensive" and "insensitive" post about the killing of 12-year-old Tamir Rice by a police officer in Cleveland.
"The intention of the post was to inform citizens about the potential danger of airsoft or pellet guns resembling real guns," Belmar said. "However, the post was a misguided communication strategy and was offensive to many people."
Belmar went on to apologize to Rice's family for the "insensitive" post, and explained the original intent of the post:
The post conveyed the message that my officers respond to calls involving a child with a gun with indiscretion and little regard for life. I want to emphasize that my officers respond to calls with discernment, and have the highest regard for human life. We train officers to take all facts and circumstances into consideration when making decisions about using force.
"I too was a kid, and I too would have done the same thing as Tamir Rice did," Aaron Dilks, the officer responsible for the post, told Mediaite. "I was allowed to go play with guns, and have BB guns — we didn't have Airsofts at the time. The point of the 'kids will be kids' is that's what kids will do…The point of putting [the post] out was to educate and make sure something like this doesn't happen in the city of Fenton or in our area."
Here's the Facebook post in question from Thursday morning: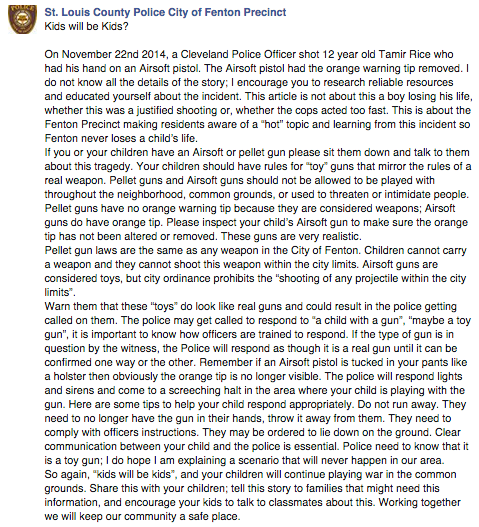 And the apology, also via Facebook:
[h/t TPM]
[Featured image via screengrab]
— —
>>Follow Andrew Desiderio (@forza_desiderio) on Twitter
[Note: Mediaite intern Andrew Desiderio is a student at The George Washington University.]
Have a tip we should know? tips@mediaite.com