'Tea Party' Rabbi Denounces Paladino Apology: 'I Almost Choked On The Kosher Salami'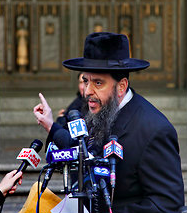 Politics is so fickle. Especially narrow-minded, homophobic politics! Following Carl Paladino's belated apology for his anti-gay remarks at an Orthodox Jewish gathering over the weekend, the 'Tea Party' Rabbi who contributed many of the offensive lines to Paladino's speech is withdrawing his support. From the NYT:
The rabbi, Yehuda Levin, who helped write those remarks, said Mr. Paladino "folded like a cheap camera" because of the uproar they had set off. And the rabbi said he could no longer support Mr. Paladino's candidacy for governor of New York.
Then he almost chocked on his pastrami sandwich.
"Which part of the speech that you gave in Brooklyn to the Orthodox Jewish community are you apologizing for?" Rabbi Levin asked at a news conference in front of St. Patrick's Cathedral, on Fifth Avenue. "Will we see you next year with your daughter at that gay pride march?"
[…]
"I was in the middle of eating a kosher pastrami sandwich," Rabbi Levin said. "While I was eating it, they come running and they say, 'Paladino became gay!' I said, 'What?' And then they showed me the statement. I almost choked on the kosher salami."
As the NYT aptly points out "Mr. Paladino, of course, had not become gay." Nope. Nor do I think we will see him at the Gay Pride Parade next year, mostly because by June Paladino will likely have disappeared back to Buffalo. Meanwhile, one might say Paladino is well-rid of Levin — who also speculated "militant gays" had written his apology — except, of course, it doesn't really answer the question of why did Paladino cast his lot with this homophobic nutjob in the first place.
Have a tip we should know? tips@mediaite.com