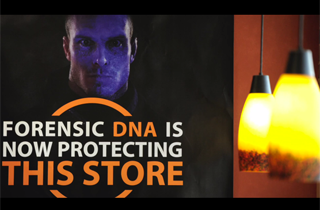 How do you prevent people from robbing Subway sandwich shops, and how do you track down the criminals who commit these crimes? Why, you spray them with DNA!
[Long pause.]
This is a real story!
Police in Knoxville, Tn. recently installed an "intruder spray" system at a local Subway's. According to the Knoxville News Sentinel, the system tags intruders, thieves and robbers with a mist of "synthetic DNA" that can last weeks, be traced directly to the specific store where they allegedly committed a crime, and glows whenever placed under a UV light. Johan Larsen, the American distributor of SelectaDNA, told the News-Sentinel that it's a system already used effectively in Australia and Europe, and that criminals tend to confess whenever their skin starts to glow.
So wait — isn't that technically the same thing as fluorescent paint? Nope. It's DNA:
The adhesive liquid can be applied to valuables, and like the intruder spray, has a unique synthetic DNA code. Property owners register their SelectaDNA kits and then, if items are stolen, police can use the DNA liquid to find owners.
Watch below via the Knoxville News Sentinel:
[h/t io9]
[Image via screenshot]
—
>> Follow Tina Nguyen (@Tina_Nguyen) on Twitter
Have a tip we should know? tips@mediaite.com