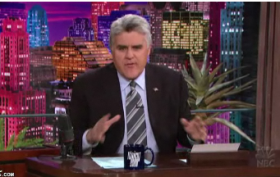 Yesterday, I hearkened back to September 2004 when NBC made the announcement that Conan O'Brien would be replacing Jay Leno as the host of the Tonight Show, five years in the future, in 2009. In hindsight, knowing what we know now about the events of the past week and a half, the New York Times article detailing the deal is quite an extraordinary read. In the same way, watching this clip from the same day — September 27, 2004 — of Jay Leno announcing the handover, the events behind it and his satisfaction with it is also pretty extraordinary. I've transcribed his full statement, and, as with the NYT piece, I'm presenting it in its entirety without comment…just a little emphasis here and there. The transcription begins just after Leno explains that, despite re-upping for five more years, he'd be leaving the network in 2009. "Let me explain how these things work," he said:
Then time went by – there's all talk about Conan O'Brien, will he go to ABC will he go to one of these other networks. And they came to me and they said, "We don't want to lose Conan O'Brien." And I said, "Okay, what does that mean?" And they said, "We think Conan would be a good replacement" – as I do – Conan is a gentleman, funny, the hottest late-night guy out there [applause]- and I said, "You know something – I don't want to see Conan go anywhere else." I'll be 59 years old…5 years from now, that's 12,000 shows, I'm not going anywhere tomorrow. And I said, "You know, there's really only one person who could have done this into his 60s, and that's Johnny Carson. And I think it's fair to say, I'm no Johnny Carson." ["Awwww" from crowd.] No no no. So I called up my buddy Jerry Seinfeld and said, "Jerry, what do you think?" And Jerry quit his show when it was the most popular. And I'm proud to say this show has been #1, we will keep it #1, and then in '09 I'll say, "Conan – take it over, it's yours."

Because you know, you can do these things until they carry you out on a stretcher, or you can get out when you're still, you know, when you're still doing good — I'm not quitting show business! — but I realized, I'm not spending enough time with my cars. [Laughter] But anyway, this is not tomorrow, it's five years from today, and I want to say, I don't think there's a better choice — because, you know, when I took this show over, boy, there was a lot of animosity, between me and Dave and who's gonna get it — and quite frankly, a lot of — well, good friendships were permanently damaged. And I don't want to see anybody ever have to go through that again. 'Cause this — you know, this show is like a dynasty. You hold it, and then you hand it off to the next person. And I don't want to see all the fighting, and all and "who's better?" and nasty things back and forth in the press. So, right now, here it is: Conan — it's yours. See you in five years, buddy. Clear enough? Enough said? All right.
Once again, a note: Jay Leno will be 60 in April. Video below.
Have a tip we should know? tips@mediaite.com