This Exists: Woman Destroys Liquor Store Because, Y'know, Charlie Sheen Doesn't Own 'Crazy'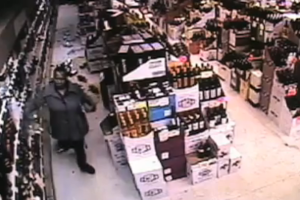 You know, I've come to a crisis. After reading Mark Joyella's amazing piece on the disgraceful way the media is exploiting Charlie Sheen's breakdown, I feel ashamed for writing a post like this. How dare I, as a person in the media, sit here and attempt to profit off the sad destruction of a human being who's clearly damaged and in need of help. It's disgusting. Therefore, I promise that I will never again – OH MY GOD! HOLD UP! IS THAT A VIDEO OF A WOMAN FREAKING OUT AND DESTROYING A LIQUOR STORE? THAT CRAP IS HILARIOUS!!!
Here's the lowdown on how this piece of security cam gold came about from LoHud.com:
"[Chris Giacopelli, store owner] said the clerk on duty was helping another customer. After just 40 seconds in the store, the woman from the taxi began complaining loudly that she wasn't being served fast enough.

The woman then asked to use the store's restroom.

When the clerk — who said she smelled alcohol on the woman's breath — refused, the woman turned to leave and, with her arm extended, knocked dozens of liquor bottles to the ground."
The woman turned herself into police shortly thereafter. And, as far as I know, she's not planning on doing a live interview with TMZ about how she doesn't have a problem and the liquor store owner is just jealous of how awesome she is. So there's that.
Check out the incredible video below:
Have a tip we should know? tips@mediaite.com