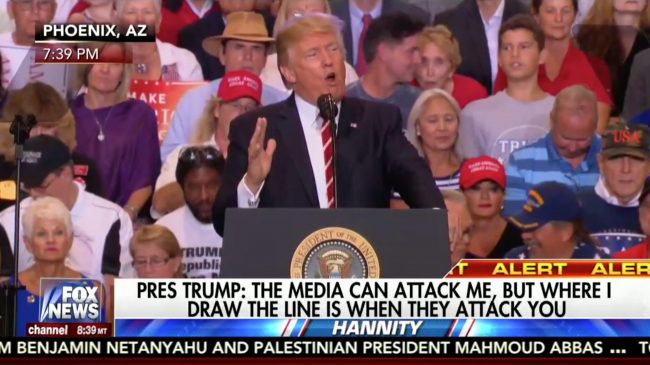 The Trump Train continued Wednesday morning when it left off last night. Though it began with an unusually late start, the president was back on Twitter for some hump day fire against Jeff Flake. — this time by name.
The Arizona GOP senator's vote is critical to Trump's legislative agenda, but that didn't stop the Commander-in-Chief from blasting Flake on Twitter as "weak on crime & border." Trump couched his criticism by adding that he still loved the state of Arizona.
Phoenix crowd last night was amazing – a packed house. I love the Great State of Arizona. Not a fan of Jeff Flake, weak on crime & border!

— Donald J. Trump (@realDonaldTrump) August 23, 2017
During his very Trumpian rally in the Grand Canyon State, The president delivered a similar criticism of Flake, though he declined to mention him by name in order to look more "presidential"
— of course his audience knew what he was talking about.
"And nobody wants me to talk about your other senator, who's weak on borders, weak on crime!" he exclaimed to cheers last night. "So I won't talk about him."
[image via screengrab]
Have a tip we should know? [email protected]
---