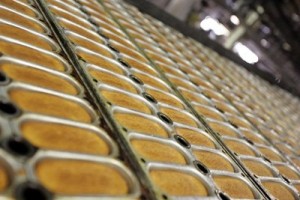 It's fitting that a snack cake famous for its supposedly endless shelf life simply refuses to expire. When Hostess, makers of the golden cake-encrusted creme-spooges we call Twinkies™, threatened to liquidate if striking bakers didn't come back to work, lovers of bomb shelter snack cakes everywhere have been in a sugar-deprived panic. When the company announced it was filing for bankruptcy, endangering 18,000 jobs, many were quick to blame the unions, but on Monday, a bankruptcy judge got the company and the union to agree to mediation, a fallback bargaining position that was always baked in.
From The Associated Press:
Hostess Brands and its second largest union will go into mediation to try and resolve their differences, meaning the Irving, Texas-based company won't go out of business just yet. The news came Monday after Hostess moved to liquidate and sell off its assets in bankruptcy court citing a crippling strike last week.

The bankruptcy judge hearing the case says that the parties haven't gone through the critical step of mediation and asked the lawyer for the bakery's union to ask his client, who wasn't present, if he would agree to participate.
While conservatives were crying Chocodile™ tears over the fate of the company at the hands of dastardly unions, liberals had a harder time swallowing the artificially-flavored blame, pointing out that Hostess wasn't any healthier as a company than their celebrated creations:
In fact, Hostess' unions had previously made significant concessions when the company went through a failed bankruptcy, and Hostess had many problems beyond labor costs, including an inability to adjust to changes in consumer tastes, which contributed to its bankruptcy.
If you're an American who had a childhood, you probably have a soft spot in your heart for Twinkies, and other Hostess products, but now that you're all growed up, when was the least time you actually ate one of them? Better yet, when was the last time you gave one to one of your kids? There's a recent trend of people who make crummy food complaining about costs, but if people don't want your product, it doesn't matter how cheaply you make it.
However, with today's agreement to mediation, Twinkies live another day, and if nothing else, all of the publicity surrounding the bakers' union strike has raised the public's awareness that Twinkies are, in fact, made by bakers, and not a team of SPECTRE scientists.
Have a tip we should know? tips@mediaite.com