U.S. Army Apologizes for Plagiarizing Its Manual on 'Cultural Understanding'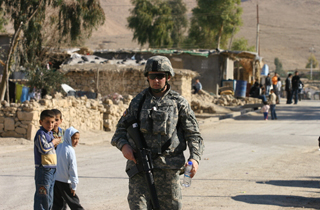 The U.S. Army: they can plagiarize too!
The Army was forced to retract its manual on "cultural understanding" — a field guide for the American soldier dealing with foreigners — after BuzzFeed and a panel of experts discovered at least "a dozen" instances of plagiarism in the text, as well as some really bad advice on dealing with different cultures.
Impressively, these two sins overlapped at times: according to anthropology professor Roberto Gonzalez of San Jose State University, the plagiarized material was lifted in a way that distorted the actual meaning behind the original text. And by "distorted," we mean that it became nearly incomprehensible:
— In section on religion, the manual lifts text from Allan Wood's 2009 book, Say No to Religion, which was critical of both homosexuality and Islam. Gonzalez called it a "bewildering" resource for a manual on understanding other cultures.

— A Washington State University online tutorial called "What is Culture" seems to have provided basic text throughout the manual.

— A section on "Perception of Time" not only copied, but misspelled an academic paper's words — turning "monochronic" cultures, which regard time as fixed, into "monochromic" ones, meaning single-colored.
"The money would be better spent on Lonely Planet guides," Gonzales said at one point
In addition, the manual lays out reductionist information on other cultures — BuzzFeed describes the advice as "chewing gum irritates Germans, Singaporeans sound funny to Americans, and Africans dislike firm handshakes" — and in the process manages to turn culture into something necessary "in conducting irregular warfare."
The Army says that they will extensively revise the Training Program 3-24.3 Cultural and Situational Understanding manual, and the anthropologists who spoke to BuzzFeed applauded the upcoming revisions.
[Image via Sadik Gulec / Shutterstock.com]
—
>> Follow Tina Nguyen (@Tina_Nguyen) on Twitter
Have a tip we should know? tips@mediaite.com