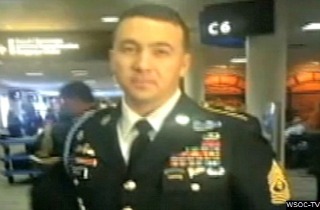 US Airways is under fire after one of its flight attendants reportedly refused to hang an Army Ranger's "Dress Blues"  jacket to prevent it from creasing. Her reason? The coat closet is only for first class passengers. First Sergeant Albert Marle was sitting in coach.
"I was really appalled at not only the way she looked at him but the way she spoke to him in an angry type of attitude," one passenger told WSOC-TV of the flight attendant.
Merle, a decorated combat veteran, reportedly didn't cause a scene over it, and simply returned quietly to his seat. Some first class passengers offered their seat to him, but he politely refused.
Another first class passenger hung the jacket at his own seat.
"There's a difference between policy and doing what is right," he said.
US Airways tells a different story, though. An airline spokesperson said the flight attendant turned down Marle's request because the closet was too full. The airline released the following statement about the incident: "We apologize for the situation and are reviewing the incident internally. We have a long and proud history of serving our military members and hold the men and women who serve our country in the highest regard."
Breitbart News spoke with Captain Jim Palmersheim, the Managing Director of Veterans Initiatives for American Airlines, who said he was "embarrassed" at what happened, and that the jacket "should have been hung up."
Marle has been flying around the country wearing his military uniform for interviews in pursuit of his dream to become a surgeon. While he hasn't asked for an apology, his fellow passengers are demanding one from US Airways.
The story has also sparked outrage on social media:
idea for policy change. Military personnel rarely fly in uniform, when they do offer to hang as if first class. It's easy @USAirways

— Kirbs72 (@Bkirby72) October 11, 2014
Wow @USAirways. Couldn't hang an army ranger's jacket. Fly @Delta. They treat men/women in uniform with respect. http://t.co/7En60YSNEs

— Formula 977 (@formula977) October 10, 2014
@USAirways Pathetic! Starts with your philosophy toward customers. Makes me sick! http://t.co/n96QZ59ibR

— Chris E. (@chris_hanson10) October 12, 2014
Watch the report below, via WSOC-TV:
[h/t Daily Mail]
[Image via WSOC-TV]
— —
>>Follow Andrew Desiderio (@forza_desiderio) on Twitter
[Note: Mediaite intern Andrew Desiderio is a student at The George Washington University.]
Have a tip we should know? tips@mediaite.com