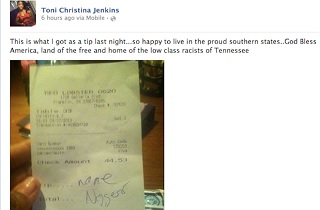 Over the weekend, 19 year-old Nashville Red Lobster waitress Toni Jenkins got an unwelcome tip from a couple of customers: the tip line on their $44.53 check was generously scrawled "none," and below it, as an added bonus, the n-word. An outraged Jenkins showed the receipt to her manager, and later posted it on her Facebook page (she has since taken it down), for which she was suspended with pay. The man who left the nonexistent tip admits to stiffing Jenkins, but denies scribbling the n-word on the receipt.
Jenkins related the incident to the UK Mail:
'They were extremely rude, but I introduced myself to them and they didn't respond. When I came to take their orderm they simply told me they wanted their food and to put everything in a to-go box. I offered them dessert but they told me abruptly that they just wanted the check.'

'When I went back to the table they had gone and left the receipt and had written the comments.'

The couple were said to be a man and woman in their 20s.

Miss Jenkins said after picking up the receipt, she showed it to her manager who reassured her that she had done nothing wrong and that she did not deserve such abuse.

Speaking of her decision to post the receipt online, Miss Jenkins said she had been surprised by the reaction.

'It's all very surprising to me. When I posted it I thought it might get a few 'likes' from friends and family. People praying for me, that kind of thing. I didn't think it would escalate this quickly. I am just a 19-year-old nursing student.'
The branch of Red Lobster in Franklin where Miss Jenkins works has now suspended the teenager on full pay until they decide what to do next.
Jenkins told The New York Daily News that her intent was not to retaliate against that specific customer, whose name, it turns out, is Devin Barnes:
"It wasn't to get back at the gentleman," Jenkins said. "I knew his signature was there, but I didn't know his actual name was printed on the receipt. My intention wasn't to attack the guy."

In a written apology, that guy, Devin Barnes, admitted to signing "none" in the tip line when he ate at the restaurant with his wife but denied writing the racial epithet.

"I do not approve of the use of that type of talk, not now or ever!!!" Barnes wrote.

Barnes' attorney, Richard Dugger, told NBC News that the young man is innocent and someone else is to blame for the disturbing language.
Jenkins also told The Daily News that she's not angry at Barnes, and would even give him a hug if she could.
Stiffing a waitress on a $45 check or a suspension with pay might not sound all that serious, but Tennessee, like most states, has a $2.13 minimum wage for tipped employees, while a waitress like Toni has to pay taxes based on sales, and typically pays a portion of sales to other restaurant staffers like bartenders and buspersons. For that $45 meal, Toni was paid $2.13 an hour, but had to pay taxes on that check, and likely had to share up to 30% of the nonexistent tip with other restaurant staff. On that meal, the tipshare alone would have been $1.35, which means that unless it took her half an hour to box up that meal, Toni actually paid to serve those customers. Raist or not, stiffing your server is not okay.
[photo via sceengrab/Gawker]
Have a tip we should know? tips@mediaite.com