Want An Anthony Weiner Of Your Very Own? Sydney Leathers Publishes Guide To Seducing Politicians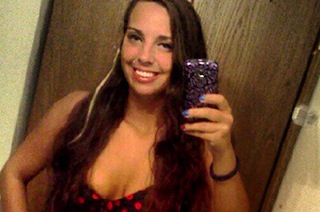 Dying to sext your first politician, but don't even know how to get started?
Fear not: fresh off a New York Post bikini shoot and a sex tape, Anthony Weiner sexting partner Sydney Leathers has now entered the advice industry, publishing "10 Secrets To Seducing Politicians" Tuesday morning.
Leathers paused for a moment of self-defense against the Maureen Dowds and Thomas Roberts of the world. "Why does having a sexting affair with a married man or even doing porn make someone a 'bad person'?" she asked. "Give me a break. I'm not a war criminal…I enjoy my sexuality, and it doesn't make me anything other than what I am: a young woman who's enjoying her life to the fullest and going on plenty of adventures with willing partners."
RELATED: Sydney Leathers To Howard Stern: Anthony Weiner 'Too Busy Jacking Off' To Be Mayor Of New York City
"Now, in case anyone wants to be as stupid as I was," Leathers wrote, "here is my guide to seducing a politician."
It's really more of a "guide to seducing Anthony Weiner online," but whatevs. Here are some highlights:
• Keep a straight face. Like, Anthony would thank me every time he had an orgasm. I don't think I ever said "You're welcome." Who thanks someone after an orgasm?

• Find a horny non-politician to finance your politician sexting. With a politician, you have to remember: You're probably not going to get money. You're in it for the thrill of it.

• Don't be too proud for selfies.

• The best way to compliment on penis shot: Be really specific. Not just length but girth and everything. Really be specific.

• Make sure you keep up with his career. Set up a Google-alert on his name. Then when you talk or sext, mention little tidbits about what they've done because politicians love that.

• And actually have a life. Although, to be quite honest, when we were talking and sexting multiple times a day, I did end up planning my days around him. Pathetic, but at least he never knew this.
Leathers also pointed out that she's deactivated her Facebook page since meeting Weiner through the social media site. "It's trouble," she wrote.
Read the full guide HERE.
[h/t xoJane]
—
>> Follow Evan McMurry (@evanmcmurry) on Twitter
Have a tip we should know? tips@mediaite.com