Watch Arlen Specter Try His Hand At Stand Up Comedy In A Philly Comedy Club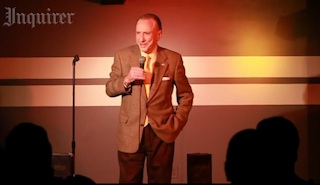 Hey, everyone! Lets take a break from laughing at our politicians to, instead, laugh with a former politician. That's what the folks at Helium Comedy Club in Philadelphia got to do last night as the club got a rather unusual guest for their open mic night; former Senator Arlen Specter. Specter did about eight minutes of jokes, telling "some inside stories about people in public life." Normally, if you saw a stand up in 2011 trying to do jokes about Bill Clinton's impeachment hearing, you'd think they were a hack doing incredibly dated material. However, most stand ups didn't actually get a chance to vote on the damn thing.
RELATED: Larry King Doesn't Take Viagra And Other Fun Facts From Tonight Show Turn As Standup Comic
Specter got a huge response from the audience. We shouldn't be surprised though. As he put it, he has 30 years of experience doing comedy. The only difference between comics and politicians is that, when the latter make a joke, they're sitting in nice chairs.
It's all pretty great. Maybe Specter can join Larry King on the road. Or he can get more politicians to join in. They've all got public speaking experience. Besides, there hasn't been a good group of political leaders doing stand up since King Henry III's ill-fated "Actual Kings of Comedy" Tour in 1219.
The Philadelphia Inquirer got Specter's whole act on tape. It's not exactly of the quality of a Comedy Central special, but it's still a lot of fun to watch:
Have a tip we should know? tips@mediaite.com