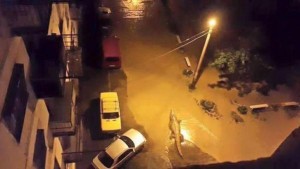 Dealing with the disastrous effects of flash flooding is bad enough — what with the possible loss of life and property damage. And now that we're living in the age of 24-hour news coverage and social media, folks like Al Sharpton and Colin Kaepernick have the opportunity to opine about why such events might occur — regardless of the effects mentioned above.
But I'm sure they'd think twice before repeating their asinine comments about the flash floods in the Georgian capital of Tbilisi, where several zoo animals escaped into the city during the weather's onslaught. And just in case you were wondering, yes — that is a crocodile swimming in the street.
Here's a shot from the daytime:
Just another crocodile swimming on the streets of Tbilisi. pic.twitter.com/479iIY434J

— *Russian Market (@russian_market) June 14, 2015
Anything Sharpton or Kaepernick? No? Okay then.
According to the Associated Foreign Press, the animals — including lions, tigers, wolves, bears, a hippopotamus and the above crocodile(s) — escaped into the city during intense flash floods in the area on Sunday. So far, 12 people have been killed in the flooding.
Tbilisi Zoo spokeswoman Mzia Sharashidze told the press, "The search for animals continues, but a large part of the zoo is simply non-existent. It was turned into a hellish whirlpool."
Swiss @swatch and a curious hippopotamus from Tbilisi Zoo. pic.twitter.com/o6P2SqVVSJ

— *Russian Market (@russian_market) June 14, 2015
Watch the report from NBC, below:
[h/t Yahoo! News]
[Image via Twitter]
— —
>> Follow Andrew Husband (@AndrewHusband) on Twitter
Have a tip we should know? tips@mediaite.com