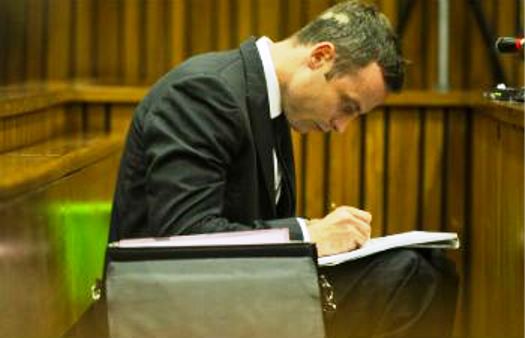 South African Paralympics medalist Oscar Pistorius has pled not guilty to the 2013 murder of his girlfriend, Reeva Steenkamp, in what South Africans are calling their "trial of the century." Pistorius is being tried for murder and three firearms-related charges; if convicted, he faces up to 25 years.
Pistorius and Steenkamp were a notable young South African couple before the model-turned-TV-star was found shot to death in the athlete's home in the early hours of Valentine's Day.
Pistorius claims he mistook Steenkamp for a burglar who had climbed in through an unprotected bathroom window, and fired four shots through the door before realizing Steenkamp was behind it. Prosecutors say the two were in the midst of an argument, causing Steenkamp to lock herself in the bathroom, and that Pistorius shot her through the door in anger.
A South African court has allowed the trial to be televised, though witnesses who do not consent to the taping will not have their testimonies shown.
The trial has been in recess for over a month, during which time mental health experts have been testing him to see if he has some kind of mental disorder.
— —
Watch the live feed below; check back daily, as Mediaite will continually update the feed.
NOTE: South Africa is 7 hours ahead of U.S. East Coast time.
Live feeds start at approximately 2:30 a.m., Eastern (United States). :
— —
Watch via Sky News:
— —
Watch live via the U.K. Telegraph:
— —
Once the Live Stream is over, you can watch the full session video for July 8nd (when available) below;
[Image via screengrab]
——
Have a tip we should know? tips@mediaite.com