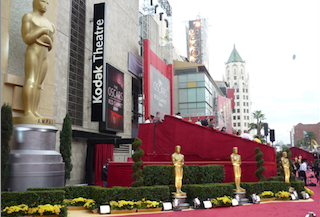 The 87th annual Academy Awards don't officially begin until 8 p.m. ET on ABC (with red carpet arrivals starting at 5 p.m.), but there is plenty of live coverage to be seen online before then. This year's awards are hosted by Neil Patrick Harris and presenters will include Channing Tatum, Ben Affleck, Scarlett Johansson, Lupita Nyong'o and many more.
Check out some of Mediaite's last-minute big Oscar predictions here.
And check out the rest of Mediaite's Oscar coverage, including highlights from the show as they happen, right here.
Watch live coverage below, via Us Weekly:
How to watch online:
You will have to log in to Watch ABC using your pay-TV account. However, the live streaming feature is only available in eight major markets: New York, Los Angeles, Chicago, Houston, Philadelphia, San Francisco, Fresno, and Raleigh-Durham.
For those without access to an account, you can still watch the red carpet and backstage feeds for free on the Watch ABC page or on ABC's official Facebook page.
The "director's cut" feed from backstage will begin streaming at 7 p.m. ET and will feature three different channels from more than 20 cameras placed throughout the Dolby Theater in Los Angeles. ABC also plans to add select video clips to the Oscar website shortly after they air on TV.
In addition, the E! network will be streaming its red carpet coverage, hosted by Ryan Seacrest and Giuliana Rancic, beginning at 5:30 p.m. ET and continuing until the award show begins at 8 p.m.
And finally, you can watch the AP's Red Carpet livestream coverage here
How to watch on mobile:
The Watch ABC app is available to download for iOS, Android, Kindle and Windows mobile phones and tablets. Like the online system, only those will access to pay-TV accounts will be able to watch the full show, though ABC will provide backstage footage for free with no sign-in required.
For those who do not have access to watch on TV or online via ABC's platforms, Mediaite will be covering the entire award show live Sunday night, posting video highlights as soon as they happen. Make sure to check out all of our Oscar coverage here.
Have a tip we should know? tips@mediaite.com