'Welcome to Hell': Police in Rio Protest Decrepit Work Conditions Weeks Before Olympics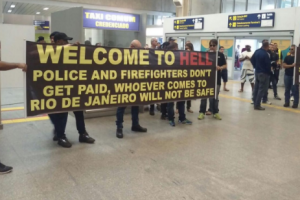 We are just about five weeks or so from the start of what could be the most disastrous showing from an Olympic host country in modern human history.
Rio de Janeiro, Brazil — the host city for the upcoming 2016 Rio Summer Olympic games — is damn near an apocalyptic nightmare. The acting governor declared a state of financial emergency two weeks ago in an effort to avoid what they call, "a total collapse in public security, health, education, transport and environmental management."
You can add on top a Presidential impeachment, a crippling recession, a shockingly corrupt political-business scandal over state-run oil, violence over eminent domain, a national shrinking GDP, Zika, a dead jaguar, world class athletes staying home, un-pacified favelas ripe for attacks against police, and efforts to extinguish the Olympic torch.
Oh, and the rowers for Olympic events will be navigating through human feces water.
And now, due to budget slashes in funding for law enforcement and security to keep the Olympics safe, civil police officers are now staging a strike by camping out at Rio's international airport with the following cheery sign to welcome visitors:
Rio tourists greeted with 'Welcome to Hell' sign from city's police https://t.co/UhNAUnAF6Y pic.twitter.com/eabrNIrKBk

— IBTimes UK (@IBTimesUK) June 29, 2016
According to The Guardian, the police forces in the city have gotten so personally desperate that, "some have to beg for donations of pens, cleaning supplies and even toilet paper." To save on gas costs, more than half of the civil police vehicles are currently in disuse.
Upwards of 500,000 visitors are expected to make their way to Rio in celebration of the Games in August.
Maria Thereza Sombra said, "In March, the head of the police station here came to me and said she didn't even have paper to print out the incident reports… That's how far we've fallen. I've never seen it this bad."
One woman recounted visiting the police after her purse has been snatched from a public bakery. Unfortunately, she was told, "'We don't have paper for the incident report. None of the printers are working… We haven't received any supplies for a while.'"
She finally admitted, "I'm feeling more insecure, more unprotected, more helpless," she said.
—
J.D. Durkin (@jiveDurkey) is an editorial producer and columnist at Mediaite.
[image via Twitter]
This is an opinion piece. The views expressed in this article are those of just the author.