UPDATE: What Easter? Google Ignores Holiday, Instead Commemorates Cesar Chavez
Google's homepage is known for its 'Doodles' — temporary changes to its homepage logo to commemorate certain days. As defined by Google, its homepage changes are meant "to celebrate holidays, anniversaries, and the lives of famous artists, pioneers, and scientists."
But on Easter Sunday, a day celebrated by over one billion around the world and by the vast majority of Americans, Google's homepage is mum on the holiday. Instead, Google chose to commemorate Big Labor icon Cesar Chavez. (In 2011, President Obama designated March 31 as Cesar Chavez day.)


Meanwhile, the search-engine's chief competitor, Bing, chose to honor the holiday with a display of multi-cultural Easter eggs. While the image is largely secular (understandable for an inclusive celebration), Bing's homepage at least acknowledges the holiday.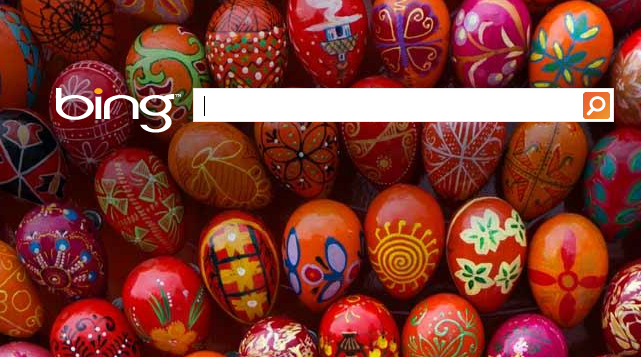 Google has previously received criticism for ignoring Christian holidays, including its refusal to include the word 'Christmas' on its December 25th logos or sometimes not even changing the logo on December 25th at all.
Many on Twitter are declaring their intent to boycott Google: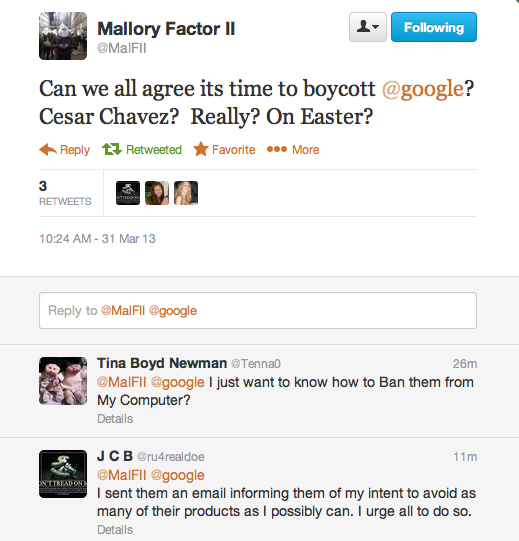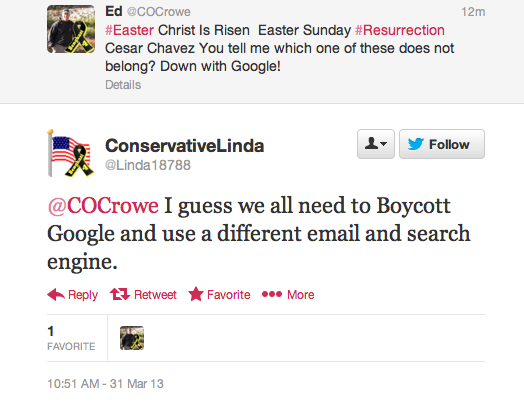 Others simply found it strange: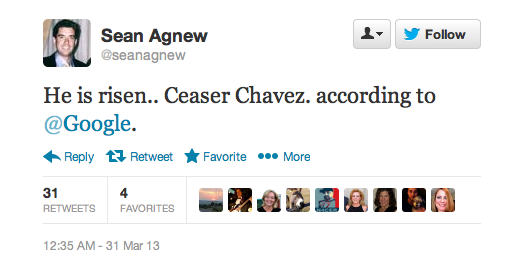 Google's homepage has steadfastly refused to acknowledge Easter for several years, while choosing to celebrate a myriad of little-known events and holidays. Click here for Google's own 'Doodles' directory, where you may view the wide variety of Google's homepage odes, by year, dating back to 1998. Curiously, it honored St. Patrick's Day earlier this month. So, St. Patrick's Day? Yes. Easter? No.

(Pictured above, Google's March 17, 2013 Doodle)
Perhaps most interesting is that, despite President Obama's understandable declaration of a day to commemorate a Latino icon, Chavez remains a highly divisive figure. The co-founder of the United Farm Workers Union was reportedly a staunch opponent of illegal immigration, known to personally patrol the border and even report illegal immigrants to the INS. During a time when the nation ponders immigration reform, Cesar Chavez is perhaps more controversial than ever. And the greatest irony is that Chavez, a devout Catholic, would likely be one of those most upset by Google's shunning of Easter in his favor.
What do you think, Mediaite readers? Do you agree with Google's choice to commemorate Cesar Chavez instead of Easter, or are you offended by its choice?
UPDATE: Google issued a response to BuzzFeed on Sunday afternoon, stating:
"We enjoy celebrating holidays at Google but, as you may imagine, it's difficult for us to choose which events to highlight on our site. Sometimes for a given date we feature an historical event or influential figure that we haven't in the past."
[h/t to BuzzFeed]
Though Google's response indicates it made a choice between highlighting Easter or Cesar Chavez, the response does not address, however, why Google has not highlighted the Easter holiday in 13 years (its last Easter 'Doodle' was in the year 2000).
Have a tip we should know? tips@mediaite.com