Before 28-year-old Ismaaiyl Brinsley murdered two NYPD officers in a vicious ambush in Bedstuy Saturday night, he shot his on-again, off-again girlfriend Shaneka Thompson in her Owings Mills apartment. Thompson, 29, who is expected to survive, has thus far been something of an afterthought as the backlash to Brinsley's shooting of the two officers has consumed media outlets.
Thompson is a health insurance specialist with the Veterans Administration and an Air Force reservist; several photos on her Facebook page show her dressed in fatigues: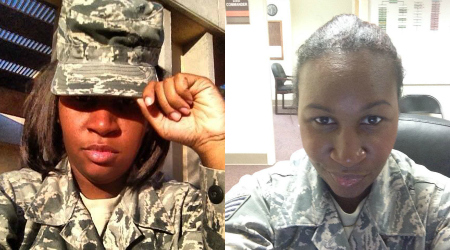 Brinsley, characterized as a hapless would-be criminal who bristled against family members and friends, had been dating Thompson intermittently for about a year when he arrived at her apartment in a Baltimore suburb at about 5:30 Saturday morning. According to the New York Times Thompson called her mother, who heard the two arguing before the line clicked off. Neighbors next recounted hearing Thompson screaming for help.
Brinsley reportedly shot Thompson in the stomach. He fled the scene, hopping a Bolt Bus to Manhattan and then an N train to Brooklyn. By that point Baltimore police had found Thompson and were tracking Brinsley by pinging her phone, which he'd taken with him. Baltimore police sent a Wanted fax to the NYPD, though the department said it was unclear whether the fax was ever actually seen by the NYPD.
Brinsley didn't reappear until he arrived at the spot where he would fatally shoot two officers before turning the gun on himself.
Thompson's condition was described Sunday as "critical but stable." Police hope to interview her Monday to learn more about Brinsley and his actions prior to Saturday's spree.
[Image via Facebook]
——
>> Follow Evan McMurry (@evanmcmurry) on Twitter
Have a tip we should know? tips@mediaite.com