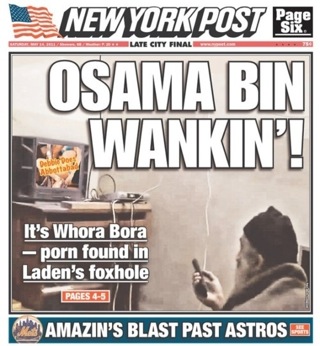 On Monday, May 2nd, many New Yorkers awoke expecting their beloved bearer of ridiculous headlines, the New York Post, to come up with an insanely entertaining cover to celebrate the death of Osama bin Laden. They came up with "Got 'Em!", which is basically the equivalent of waking up to a box of sweaters on Christmas Day. But, oh, did they make up for it today.
Yes, the cover above is real, and it is spectacular: "Osama bin Wankin'!" it loudly proclaims, with the subheader "It's Whora Bora– Porn Found In Laden's Foxhole." The image is a screencap from the famous video of bin Laden watching himself, with the title "Debbie Does Abbottabad" doctored in. Hundreds of years from now, archeologists will find this cover and middle school boys the world over will dream of having lived in the same civilization as the people who put it together.
While the cover in itself is sublime, the accompanying article has some amazing alliteration in it, too: "It turns out that terror titan Osama bin Laden had a stash of smut to liven up his lair," write Chuck Bennett and Philip Messing. It goes on in a similar vein. If the National Enquirer was demanding a Pulitzer for their Edwards saga coverage, the Post must be knocking their doors down.
[h/t]
Have a tip we should know? tips@mediaite.com