Fate of Fired Guns & Ammo Editor Shows 'Little Room for Nuance' in 'Gun Journalism'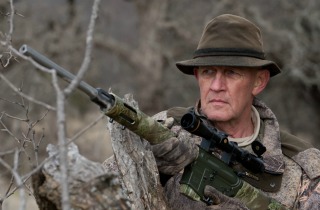 In November, Guns & Ammo editor Dick Metcalf was removed from his position after he published a column in that magazine asking whether some gun control proposals should be entertained by the periodical's readers. On Saturday, the New York Times published a profile on Metcalf and found that the once prominent commentator had disappeared entirely from the firearms commentary scene.

"He no longer stars on a popular television show about firearms," the Times' Ravi Somaiya wrote. "Gun companies have stopped flying him around the world and sending him the latest weapons to review."
Metcalf revealed that his former employer had to let him go when his column advocating for some restrictions on gun ownership resulted in at least two major gun manufactures threatening to pull advertising from Guns & Ammo magazine unless he was let go.
"I've been vanished, disappeared," the 67-year-old columnist told the Times.
RELATED: Guns & Ammo Fires Editor After Publishing Editorial Calling for Gun Control
"He is unsure of his next move, but fears he has become a pariah in the gun industry, to which, he said, he has devoted nearly his entire adult life," Somaiya wrote. "His experience sheds light on the close-knit world of gun journalism, where editors and reporters say there is little room for nuance in the debate over gun laws."
Editors of gun magazines are unapologetic in acknowledging that their content caters to the gun enthusiasts who believe their rights are under constant threat, and to the firearms companies that account for much of their revenue. At some magazines, said Jan Libourel, a former editor of both Guns & Ammo Handguns and Gun World magazines, "the editors only want editorial content for some key advertisers."
"[Metcalf] says he is still contemplating how a self-described 'Second Amendment fundamentalist' who keeps a .38 snub-nose Smith & Wesson revolver within easy reach has been ostracized from his community," Somaiya concluded. "Mr. Metcalf says his only regret about the column is that it was too short."
Read the full column via New York Times
[Photo via Guns & Ammo]
— —
> >Follow Noah Rothman (@NoahCRothman) on Twitter
Have a tip we should know? tips@mediaite.com