Newt Gingrich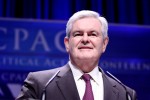 Newt Gingrich is an American politician, commentator, and historian who served as the 50th Speaker of the United States House of Representatives from 1995 to 1999. He was the U.S. Representative for Georgia's 6th district from 1979 until he resigned in 1999. He ran for president in 2012. He served as the House Minority Whip from 1989 to 1995.
Newt Gingrich Q&A
How old is Newt Gingrich?
He was born on June 17, 1943, and is 76 years old.
Does Newt Gingrich have a law degree?
He got his B.A. in history from Emory University and his M.A. and Ph.D. from Tulane University in European history.
Newt Gingrich Noteworthy Stories
July 23, 2019
Newt Gingrich thinks President Donald Trump is more interested in attacking Democrats as "radical" than he is in passing legislation.
Latest Newt Gingrich Stories