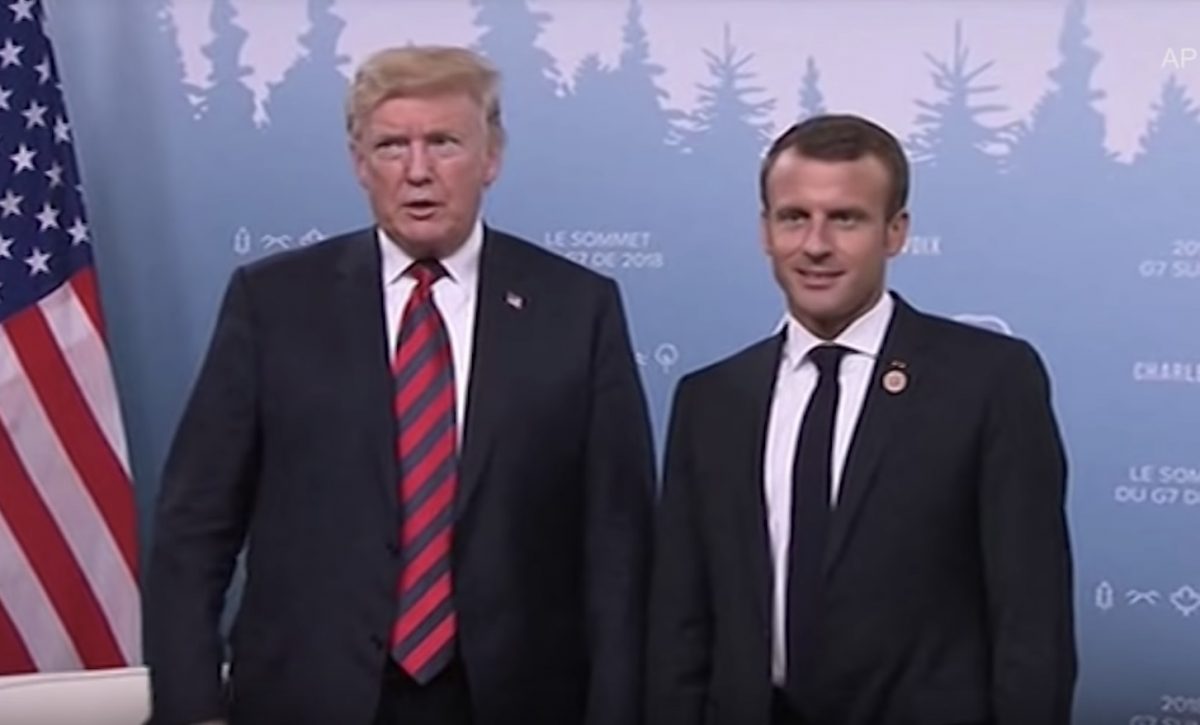 French President Emmanuel Macron fired back at President Donald Trump after POTUS launched a Twitter tirade shortly after leaving the G7 Summit threatening to undo the efforts of the summit and bashing the leader of one of America's closest allies.
On his way to his historic summit in Singapore with North Korean despot Kim Jong Un, Trump who had hours before praised the relationships gained at the G7 Summit, did an about-face and slammed Canadian Prime Minister Justin Trudeau as "dishonest and weak."
Based on Justin's false statements at his news conference, and the fact that Canada is charging massive Tariffs to our U.S. farmers, workers and companies, I have instructed our U.S. Reps not to endorse the Communique as we look at Tariffs on automobiles flooding the U.S. Market!

— Donald J. Trump (@realDonaldTrump) June 9, 2018
PM Justin Trudeau of Canada acted so meek and mild during our @G7 meetings only to give a news conference after I left saying that, "US Tariffs were kind of insulting" and he "will not be pushed around." Very dishonest & weak. Our Tariffs are in response to his of 270% on dairy!

— Donald J. Trump (@realDonaldTrump) June 9, 2018
More troubling, POTUS threatened to yank the endorsement of the summit's communique, essentially undoing the diplomatic gains made by the world leaders.
In response, Macron, who was subject to Trump's Twitter ire on the eve of the G7, noting fit-throwing is no way to dictate diplomacy.
"International co-operation cannot be dictated by fits of anger and throwaway remarks," Macron said in a statement obtained by Le Monde and published by The Independent.
The statement continued on: "We spend two days working out a [joint] statement and commitments. We are sticking to them and whoever reneges on them is showing incoherence and inconsistency."
[image via screengrab]
Have a tip we should know? tips@mediaite.com