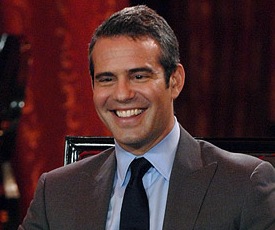 During last night's "Real Housewives of New Jersey" reunion special, it got real (well, more real than usual) when host Andy Cohen stepped in to express his personal opinion about one of the housewives' husbands loose use of the term "gay" as an insult. "I'll jump in, and I have no business jumping in, but I'm gay, and I thought it was offensive," said Cohen. "I mean, I just want to say…I think it was offensive."
Cohen, besides hosting these catfights reunion shows for all the various Housewives around the country, also serves as head of original programming and development for Bravo. And it wasn't exactly a "coming out" last night – he's discussed being gay as early as 2007.
But the rare on-air editorializing, and mention of Cohen's homosexuality, is especially impactful given Cohen's rising profile with the NBCU cable outlet. He's not just a high-ranking TV exec for a top-tier cable outlet – he's going to be the newest late night TV host.
Beginning July 16, Cohen will host a MidnightET show, "Watch What Happens: Live," on Bravo. The program, airing for half-hour, once-a-week, will include, "guests from some of Bravo's most popular series, as well as from the world of entertainment," discussing Bravo's reality series. Okay, okay, it's not exactly high-brow entertainment. But it does mean Cohen moves into the slot of TV's first openly gay late night talk show host. By Cohen opening up last night, those Bravo fans who didn't know now do, and another barrier has been broken.
But for more of Cohen before July 16, apparently the Jersey reunion was so packed with drama it couldn't fit into one hour. Part two airs tomorrow night at 9pmET.
Check out Cohen's comments below:

—–
Have a tip we should know? tips@mediaite.com