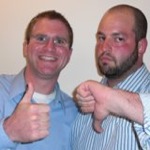 Who: Bill Wasik
What: Book Reading for And Then There's This: How Stories Live and Die in Viral Culture
Where: Barnes and Noble in TriBeCa
When: June 23, 2009
Thumbs: Up
In each chapter of his book, And Then There's This: How Stories Live and Die in Viral Culture, author Bill Wasik conducts a different experiment related to social networking and viral marketing. His most famous project led to the creation of "flash mobs" and their unprecedented rise in underground popularity in the summer of 2003. Through submersion in these experiments, Wasik hoped to understand and pinpoint what causes a fad to take off and what leads to its decline.
He read from the section of his book when he immersed himself – really as an alter ego named "Bill Shiller" – in a series of viral marketing campaigns. He strove to become the kind of docile prototype that these marketing firms hope will attach themselves, and, more notably, their online networks, to certain products and brands.
Even before the Internet, marketers pursued an active engagement with consumers. Viral videos, however, provide a method and opportunity now to make a tighter and longer-lasting connectivity. For these companies and the American public, viral videos promote collaboration and participation that set the stage for all sorts of innovation, growth and possibility, as well as some mania.
What He Said
"It's about animals and anything short of porn, animals are numero uno."
– BW explaining what interests people online
"The whole problem is that nobody takes the silly stuff seriously because it's all presented as silly stuff."
– BW defending his book's world historical tone and its juxtaposition with the subject material
"Take a more controlling attitude to what you're doing online."
– BW being realistic that people won't simply unplug, but he acknowledges that they can do a better job at managing their online use
"I hope we find a way to bracket the chatter to focus on the larger things being done."
– answering "In 100 years, what will people look back on as culturally important from this era?"
What We Thought
Wasik said that eventually all viral videos fade out of the collective conversation, giving way to the political energy and intensity that belongs.
He brought along an entourage of guests, including some of those mentioned in the book by name. Several of Wasik's guests asked questions of the writer during the Q&A portion, and Wasik called on them by first name. It was heartwarming to see such strong and animated support from his friends and family.
Asked to speculate as to why Internet stars like Susan Boyle tend to flame out in the form of disgust, Wasik said that often a viral video can get built up by people and the media to the point where latecomers are far less charitable than the first crop of viewers.
PANEL RULES!
Some audience behavior seems to repeat itself panel after panel. We'll be updating a running list of "PANEL RULES!" that will help ensure that you are not the dweeb of the Panel Nerds.
Panel Nerds don't like…. That Guy
Don't come to events on consecutive nights and ask the exact same question to the different speakers – We were there both nights too. We noticed you went first both times, asking each of the speakers what they could do to repair the divide between Republicans and Democrats. Whatever validity your point may contain is undercut by the fact that you are obviously seeking to be heard. Do it on your time, not ours.
Panel Nerds don't like…. Low Talkers
You've been selected to speak directly to the panelist, stand proud – Revel in your moment and allow us the pleasure of listening to your provocative and intriguing question. If we can't hear you, we can't judge you favorably. Speak up or forever hold a microphone.
Etan Bednarsh is a writer and internet marketer in New York City . His writing focuses on the intersection of politics and pop culture. He is currently studying sketch and improvisational comedy at the Upright Citizen's Brigade. Danny Groner is a freelance online writer and video editor in New York City. He has worked at several prominent media companies, dabbling in radio, television, and print and online journalism.
Want the Panel Nerds to cover your panel? Email them here: PanelNerds@mediaite.com

Have a tip we should know? tips@mediaite.com