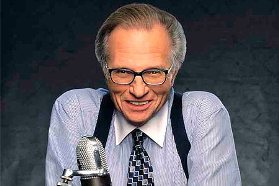 Larry King announced today, via his blog and Twitter page, that he would be ending his long-running iconic CNN show in the fall.
He will stay "part of the CNN family," but now CNN will have a major prime time facelift in the wake of Campbell Brown leaving and Eliot Spitzer and Kathleen Parker coming in.
King wrote on his blog (and he will say this tonight on the show at 9pmET):
I talked to the guys here at CNN and I told them I would like to end Larry King Live, the nightly show, this fall and CNN has graciously accepted, giving me more time for my wife and I to get to the kids' little league games.

I'll still be a part of the CNN family, hosting several Larry King specials on major national and international subjects.
The news comes on the heels of King's lowest-rated quarter ever. One of the names thrown around recently as a possible replacement has been reality show judge and British talk host Piers Morgan – a possibility CNN did not deny recently.
In a statement to staff, CNN/U.S. President Jon Klein wrote:
Larry King has asked that I share with you a message to his audience that will be broadcast tonight at the top of his show. After 25 years, Larry has decided to take a step back from the nightly grind. He wants to take some time for himself and his family. So he will end his run with Larry King Live on his own terms, sometime this fall.

He is not leaving CNN. Larry is a beloved member of the CNN family and he will continue to contribute to our air with periodic specials.

Larry has been a giant in the industry for as long as most of us can remember. Anyone who ever mattered has sat for an interview on Larry's iconic set. They all know the man it is our privilege to call our colleague and friend–tireless and curious, respectful and inquisitive, caring, generous, influential, a citizen of the world.

We will celebrate his tenure in proper fashion over the coming months. Today is about Larry and about the beginning of a new chapter. It is not about good-bye.
Obviously, we'll have much more on this soon.
> Update: How's this for a reaction. MSNBC's Keith Olbermann tweeted:
Larry King is a lovely, generous man who tried, for eight years, to convince his bosses to hire me to be his 8 PM lead-in at CNN.
—–
» Follow Steve Krakauer on Twitter
Have a tip we should know? tips@mediaite.com