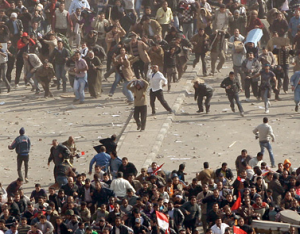 Protesters with machetes, razors and fists created chaos in Cairo Wednesday morning, and sent cable news networks scrambling to cover the rapidly unfolding drama live. CNN's Anderson Cooper, who was caught in the midst of one pro-government mob, was punched along with his crew. Elsewhere, CNN's Ivan Watson reported that "people are being seriously hurt." Shots have been heard being fired in the background of CNN's live coverage.

CNN's Ben Wedeman was also caught in the fray, but escaped uninjured. He did, however suggest a disturbing motive for some of the violence. "I was not injured. Harassed? Yes. Appears the pro-government 'demonstrators' have been given instructions to target press." Fox News added the White House has become concerned for the safety of American journalists in Egypt. CNN reports some of its crews were forced to evacuate the scene for their own safety.
CBS News anchor Katie Couric also believes journalists are targets, going to Twitter to say protesters supporting Egyptian President Hosni Mubarak are "very hostile" and wouldn't let crews shoot video.
ABC's David Muir also witnessed violence:
@DavidMuirABC: Tear Gas in #Tahrir Square and shots fired as we got out of #Tahrir Square through alley #Egypt 7 minutes ago via TweetDeck

@DavidMuirABC: Pro Mubarak demonstrators and anti Mubarak demonstrators hurling rocks. Watched as demonstrators smashed slabs of concrete #Tahrir Square 12 minutes ago via TweetDeck

@DavidMuirABC: Witnessed men who were pulled off horses and beaten in #Tahrir Square #Egypt 13 minutes ago via TweetDeck
CNN flexed its multi-channel muscle to cover the clash of protesters, combining U.S. and International CNN crews, and carrying the combined reporting on both channels.
At CNBC, Squawk Box has added extensive coverage of the violence. Yousef Gamal El-Din, reporting live by phone, was heard urging protesters to leave him alone so that he could report. Anchors at CNBC urged him to "stay safe." On Fox Business, Varney and Company also devoted huge resources to cover the story, and its obvious implications on international financial markets. Stuart Varney interrupted an interview with Mike Huckabee to point out that shots had been fired and protesters were throwing rocks at crowds.
On MSNBC, Richard Engel is leading the on-the-ground coverage from Cairo.
Fox News brok from wall-to-wall coverage to carry extensive coverage of the snowstorm snarling the U.S., and a lively exchange between Rep. Anthony Weiner and co-host Martha MacCallum over healthcare.
Watch CNN's coverage below:
Have a tip we should know? tips@mediaite.com