Dan Abrams On Elizabeth Smart Case: Defense Will Have A Difficult Time Proving Kidnapper's Insanity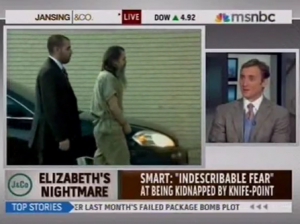 This week, Elizabeth Smart has been testifying in the trial of Brian David Mitchell, the man who kidnapped her for nine months eight years ago. Yesterday and the day before, Dan Abrams, Mediaite founder and NBC Chief Legal Analyst, appeared on Jansing and Co. to explain what the defense is up against in its attempt to prove Mitchell is insane, and just how hard that will be.
Abrams pointed out that unlike regular trials where the onus is on the prosecution to prove guilt (the question is no longer whether or not Mitchell is guilty), the onus is now on the defense to prove not only that he suffers from psychosis, but that he was completely incapable of knowing what he was doing and that it was wrong. This will be increasingly difficult because, as Abrams says, "every action he took" to keep Smart in his possession will be used to show that he knew what he was doing. There were numerous examples of this from Smart's testimony, including stories of Mitchell lying to a police officer to stop him from seeing the girl's face, and giving up on a pre-meditated plan to kidnap Smart's cousin when he was too worried he'd be caught.
During Abrams' second appearance, he and Chris Jansing also discussed whether or not the defense would want to cross-examine Smart. Abrams suggested that they'd want to but it might not be in their best interest, and it certainly wouldn't be a good idea to ask her about any events from her ordeal. Sure enough, a few hours after the second of these segments were taped, when the defense got their chance, they only questioned Smart for 15 minutes.
Check out the two clips from MSNBC below:
Have a tip we should know? tips@mediaite.com