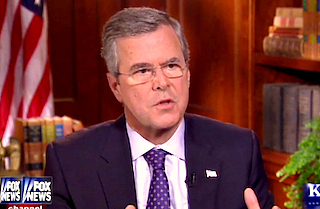 2016 GOP hopeful Jeb Bush raised some eyebrows over the weekend when, in a preview of his interview with Fox's Megyn Kelly, he said he still would have invaded Iraq.
Or did he? As Mediaite pointed out at the time, Bush didn't answer Kelly's exact question. The Fox host asked whether Bush would have authorized the invasion knowing what we know now, with the benefit of non-faulty intelligence. Here's Bush's answer:
"I would have, and so would have Hillary Clinton, and so would have almost everybody that was confronted with the intelligence they got. In retrospect the intelligence that everybody saw, that the world saw, not just the United States, was faulty. And in retrospect once we invaded and took out Saddam Hussein, we didn't focus on security first."
That answer is premised on the intelligence as it was known in 2002 — which, as Mediaite pointed out Sunday, has the benefit of keeping Hillary Clinton's vote to authorize the war in the discussion.
But that's not an answer to the question Kelly asked, and on CNN's New Day Tuesday morning GOP strategist Ana Navarro said Bush "misheard" Kelly's prompt.
"He was referring to what we knew then, not what we know now," Navarro said. "It's the only way the entire answer makes sense, because then he goes to to say what you just posted him saying, that the information was faulty."
YMMV may vary on whether Bush actually misheard, or, "misheard" to answer a preferable question. Either way, the question, which originally presented Bush with the unpleasant options of taking an extremely unpopular foreign policy position or throwing his brother under the proverbial bus, will now be even more loaded the second time it's asked.
Watch the clip below and delete your account, via CNN:
[Image via Fox/screengrab]
——
>> Follow Evan McMurry (@evanmcmurry) on Twitter
Have a tip we should know? tips@mediaite.com