Florida Cops Terrify Students by Holding Active Shooter Drill Without Any Warning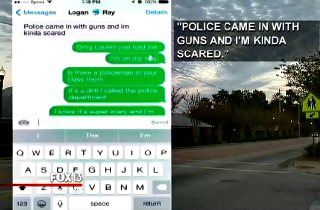 If you think it's a great idea for local police to swarm a middle school, guns blazing, to conduct an "active shooter drill" all without any prior warning to parents or students, then boy do we have a school for you.
It was about 9 a.m. last Thursday morning at Jewett Middle Academy in Polk County, Fla., when the principal announced a lockdown.

Tampa's Fox 13 has some more details:
Students huddled into classrooms waiting for further instructions. Instead, they started hearing voices in the hallway.

"A lot of people started getting scared because we thought it was a real drill," Lauren said. "We actually thought that someone was going to come in there and kill us."

Two police officers burst into Lauren's classroom with their guns drawn — one carrying, what Winter Haven police said, was an AR-15 rifle.

[…] The school sent an email out after the exercise, called a "lockdown active shooter drill," to let parents know it had taken place.
Parents were reportedly furious, prompting the local police to re-evaluate its standard procedure for such drills. "Further lock-down drills that occur at schools within the city limits of Winter Haven will be performed by uniformed officers without weapons," the department later announced.
Over at Reason, "Free-Range Kids" author Lenore Skenazy lambasted the police department for its short-sighted thinking:
The fear that teachers might suffer heart attacks, that kids might experience psychotic breakdowns, that someone with his own weapon might shoot real bullets in defense—none of that seemed to occur to our peacekeepers. Nor did the notion that distraught parents might race frantically to the school, endangering anyone in their path.

No, these cops were so focused on the most horrific, least likely crime that nothing else mattered.
Watch below via Fox 13 News:
Have a tip we should know? tips@mediaite.com