From Jane Fonda to Michael Moore: Oscar's Most Politically Explosive Moments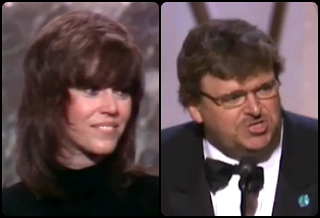 It's relatively rare that the entertainment industry's biggest night veers into the realm of politics, but when it does, it can produce some powerful TV moments. Ahead of this Sunday's 86th annual Academy Awards, CNN aired its own "And the Oscar Goes To…" special Thursday night and included some of the most memorable political moments from past years.
Jane Fonda, who was perhaps the most outspoken celebrity opponent of the war in Vietnam, told CNN that she the was nominated for Klute, she thought to herself, "How can be in front of all these people and not say something?" The surprise last year was her decision not to speak out against the war from the Oscar podium when she won. Instead, she simply said, "There's a great deal to say, and I'm not going to say it tonight." It wasn't until she got backstage that she talking to reporters about the "murders being committed in our name in Indo-China."
Two years later, when Marlon Brando won for The Godfather, he sent Native American activist Sacheen Littlefeather to accept the award in his place. She received a mix of applause and jeers when she explained that Brando was boycotting the ceremony due to the film industry's treatment of her people.
Next, CNN jumps to 2003, when Michael Moore accepted his Best Documentary award for Bowling for Columbine. The liberal filmmaker invited his fellow nominees to protest the Bush Administration's Iraq War. "We like nonfiction and we live in fictitious times," he said. "We live in the time where we have fictitious election results that elects a fictitious President. We live in a time where we have a man sending us to war for fictitious reasons.
" For anyone who thinks Hollywood is just a bunch of leftists, note the audible boos in the crowd during his speech.
One other highlight from the CNN film comes when it shows how hosts like Steve Martin and Johnny Carson have dealt with these controversies on the spot. "It was so sweet backstage, you should see it" Martin said after Moore's speech, "The teamsters are helping Michael Moore into the trunk of his limo."
Watch video below, via CNN:
[photo via screengrab]
— —
>> Follow Matt Wilstein (@TheMattWilstein) on Twitter
Have a tip we should know? [email protected]