Government Office Under Fire For Using Tax Dollars On Bizarre Video Mocking Asians: 'Beauliful, Beauliful'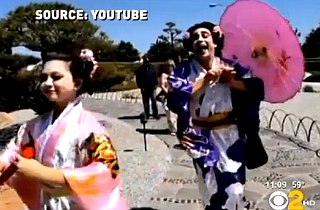 CBS Los Angeles has dug up a controversial video in which a white man puts on a kimono and paints his face white like a geisha, speaking in an exaggerated stereotype of a Japanese accent. The kicker: it was funded and produced by the city.
The City of Los Angeles Department of Public Works apparently spends $48,000 per year on a program called "L.A. CityWorks," which airs on the city-owned channel. The controversial short, which some have called "racist" and "insensitive," was part of this city-funded initiative.
The video, shot at a Japanese Garden in Los Angeles, depicts the cross-dressing "geisha" man speaking in a mock Japanese accent. "The Japanese water park is a beauliful, beauliful site," he said with a bizarre misappropriation of the stereotypical Asian mispronunciation of "R" sounds as "L." The actor leads two interested men on with a coy, flirty attitude, before ultimately fulfilling the video's purpose: explaining how the Japanese Garden uses recycled water.
CBS spoke with Greg Kimura, the head of LA's Japanese American National Museum, who cringed upon viewing the video, calling it "just awful," "offensive" and "embarrassing to even watch."
"It brings back all the worst stereotypes," he continued. "The accents, the whiteface. I'm embarrassed for everybody who is involved in this. If there's a remedy to this, it would be something like an apology and taking it down immediately."
After the investigative reporter brought the video to the city's attention, it was immediately yanked from YouTube. The department's spokeswoman Cora Jackson-Fossett told CBS: "We apologize profusely that we missed the mark totally. We made a mistake. We're extremely sorry. It was an attempt at humor that failed."
From now on, CBS reports, city officials plan to review future videos with a close eye.
Watch the report below, via CBS-2 Los Angeles:
[h/t Michelle Fields]
— —
>> Follow Andrew Kirell (@AndrewKirell) on Twitter
Have a tip we should know? tips@mediaite.com