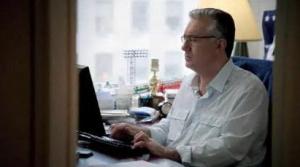 Blowback to the political donation is immediate, and shocking.
Statement from Phil Griffin, President of MSNBC:
I became aware of Keith's political contributions late last night. Mindful of NBC News policy and standards, I have suspended him indefinitely without pay.
More coming, obviously.
Ok, let's decompress. First of all, "indefinitely" is David Shuster language. That's a big statement.
> Update: Some notes: Chris Hayes fills in tonight, the show will remain Countdown during Olbermann's absence, and unsurprisingly, there is no date for his return yet.
> Update: First of all, Hayes gave money to Democrats, but actually Hayes isn't hosting tonight, via Brian Stelter's Twitter.
Here's the backstory:
Politico reports Keith Olbermann did last week, in the maximum amount, to three Democratic candidates.

This donation came to one candidate directly after his Countdown interview that night – and it may be in violation of NBC's rules.

Rep. Raul Grijalva was a guest on Olbermann's MSNBC show last Thursday (video below), lamenting the campaign waged against him because of immigration-related SB-1070. "It comes at the end of a campaign when many of us have been battered for six months because of our opposition to 10-70," he said on the show. It was the sixth time the congressman had appeared on the show in the last sixth months, according to Politico. In the end, Grijalva ended in a too-close-to-call race, eventually pulling out the victory on Thursday night.

But that night, Olbermann concluded his show, went over to Mailboxes Etc. around 30 Rock, and donated $2,400 to Grijalva, Rep. Gabrielle Giffords and Jack Conway (running against Rand Paul). "Giffords had appeared on Olbermann's program in May, as did Conway," reports Politico.

So what does this mean? NBC has rules regarding employees donating to political campaigns, discouraging it and impressing that it's a "a breach of journalistic independence to contribute to the candidates they cover." Here's a key part of that policy: "You should report any such potential conflicts in advance to, and obtain prior approval of, the President of NBC News or his designee."
—–
» Follow Steve Krakauer on Twitter
Have a tip we should know? tips@mediaite.com