MSNBC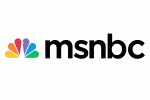 MSNBC is an American cable news network, that specializes in news coverage for NBC as well as political commentary and reporting on current events. Currently the network is owned by NBCUniversal News Group.
MSNBC Q&A
Who is the head of MSNBC?
Since 2008 the president of MSNBC has been Philip Griffin.
What does MSNBC stand for?
The abbreviation for the cable news network represents the merger between two companies, Microsoft and NBC. MS represents Microsoft as a partner and NBC represents the other partner NBC, standing for National Broadcasting Company.