Mediaite Quizzes Mo Rocca About New Cooking Channel Show My Grandmother's Ravioli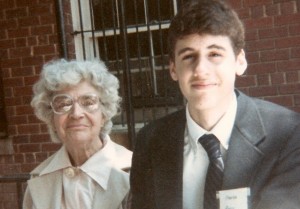 Former Daily Show correspondent Mo Rocca has become known to foodies as a galloping gourmand, judging for shows like Iron Chef America and hosting Cooking Channel's Foodography, but in his new show, he steps out from behind the plate, and in front of the stove. My Grandmother's Ravioli features Rocca being schooled in the culinary arts by OPG (Other People's Grandparents), and offers viewers a chance to submit their own Grannies and Grampses for Mo's consideration. The host took a few minutes to answer some braising (if not burning) questions.
My Grandmother's Ravioli, debuting Sunday at 8pm ET on Cooking Channel, is sweetly dedicated to Mo's memory of his late grandmother's cooking, and the titular favorite dish that he never learned how to cook before she died. In fact, despite his deep appreciation for food, Mo doesn't know how to cook at all. My Grandmother's Ravioli hopes to remedy that situation, as Mo learns tips, tricks, and favorite recipes from Grandfolks across the country, including tonight's inaugural slate of, as Mo describes them, "a Filipino grandmother, Transylvanian grandfather (who escaped communist Romania with his own grandmother's meat grinder!) and an Italian grandfather who himself learned to cook in his 70s. They are all completely delightful."
Mo Rocca and I go moderately back (as opposed to way back), having  once worked together on what would become Politics Daily. When I say "worked with," I mean we published in the same space, but I was a rock-breaking blogger at the time, and Mo was one of a group of shiny celebrity commentator/columnists who never interacted with the grunts. Mo was the exception, reaching out now and then to offer encouragement and just to shoot the breeze.
We've kept in touch sporadically since then, but I haven't seen him since the 2008 Democratic convention in Denver. When I heard he had a new cooking show debuting today, I was touched that he had remembered my birthday. I reached out to see if he'd give us a quick Q&A about the show, and he generously agreed. Enjoy, and be sure to check out the show tonight at 8pm ET, on Cooking Channel:
Tommy Christopher: I haven't seen you since the 2008 Democratic National Convention in Denver. Tell me everything you've done since them.
Mo Rocca: I've been hanging out with Charles Osgood (host of CBS Sunday Morning, my main gig). We'll get together, sing from the Rodgers & Hart Songbook, compare bow ties, regular guy stuff.
You're probably best known for your work on The Daily Show. Do you miss that show, especially during an election year?
Mo Rocca: I miss the people. Do I miss the outlet? I have a twitter account.
Which of this year's candidates is your comedic favorite? What's so funny about him/her? Is there one issue that's really important to you this year?
Mo Rocca: Presidential candidates (yes, on both sides) are bad actors playing the role of "Common Man." It's inherently funny watching someone trying to convince you they are someone they're not. Romney is the most stilted so he's the funniest.
Tommy Christopher: What is John Stewart really like?
Mo Rocca: Surprisingly soft hands for someone who works so hard.
Tommy Christopher: Why a cooking show? Your show's blog says you can't really cook at all. Aren't there other things you can't do that you could make a show about?
Mo Rocca: There are a lot of things I can't do: I can't build a hot rod chassis (which is why I hope you'll enjoy my new show on the Speed Channel.)
Cable TV has given me the opportunity to get paid to learn the stuff I don't know. Remember "Cable in the Classroom"? Well Cable IS my Classroom. (I learn a lot – and hope the audience does, too – on CBS Sunday Morning. Every week I'm writing a term paper on something different.)
Tommy Christopher: We're starting a cooking blog. Any advice?
Mo Rocca: Aren't blogs finished? Didn't the New York Times decree that a while back?
Tommy Christopher:  What is Mo Rocca's favorite:
Mo Rocca: Breakfast: Huevos Rancheros! (reason enough to support amnesty for illegals!)
Dinner: Duck
Dessert: Baked Alaska (never had one but sounds delicious)
Drink: Sidecar, with sugar on the rim. Or an Old Fashioned. (Don't tell me it's a church lady drink. Don Draper had one on the first episode of Mad Men.) With a Shirley Temple chaser.
Post-Apocalyptic Movie: Wall-E
TV Chef: Please, I'm already an outsider in the Food TV world. I'm going to lay low on this one. (Actually shouldn't it be "lie low"?)
Tommy Christopher: Your grandmother is the inspiration for this show. Can you describe the show's titular ravioli?
Mo Rocca: I'm going to answer more than your question here: Momma worked 40 hours a week at Woodie's (Woodward & Lothrop) department store in DC. Then on the weekend she slaved away in the kitchen making us Sunday meals. We couldn't get her NOT to do this. It was, hokey as it may sound, her way of showing love. That, and she made clothes for my stuffed animals. She was just the best. I am glad I saved my money to take her to see The King & I during Yul Brynner's last tour, when I was about 14. (My father redeposited the money I spent in my savings account afterward. So it was a win-win.)
Anyway the ravioli was simpler than other meals she made, but the one I loved most. Fresh pasta (from eggs and flour) that she made. Big pockets with a filling of ground beef, spinach and garlic. (No, there was no cheese inside.) The ravioli were not over stuffed. And the tomato sauce on top was light. They were actually kind of delicate which made me savor them more. You didn't shovel them down.
Tommy Christopher: Your show allows people to submit their own grandparents for consideration. Is there a loophole for childless old people?
Mo Rocca: Absolutely. Everybody is a "grandparent" to someone. (Awww….)
Tommy Christopher: Do you feel added pressure being on "The" Cooking Channel, rather than just "A" Cooking Channel?
Mo Rocca: It's actually just "Cooking Channel." When I've been promoting the show I sound like I'm speaking pidgin English or I'm a caveman: "Watch my show on Cooking Channel. Ooga booga."
Have a tip we should know? tips@mediaite.com