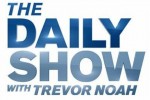 The Daily Show is a weekday late night talk show airing on Comedy Central, specializing in news satire. Through comedy and satire, The Daily Show pokes fun of news stories, media personalities, and cable news networks.
The Daily Show Q&A
Who is the host of The Daily Show?
The current host of the Daily Show, as of 2014, is Trevor Noah.
When did Jon Stewart leave?
Jon Stewart officially left The Daily Show in 2015, after announcing that Trevor Noah would take over for him.
Latest The Daily Show Stories