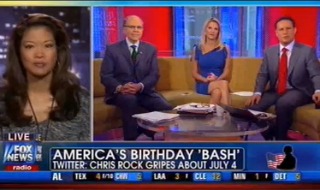 Following yesterday's 4th of July celebrations, columnist and Twitchy founder Michelle Malkin appeared on Fox & Friends where she tackled, among other topics, celebrities who took to Twitter to express their issues with Independence Day.
RELATED: Red Eye Panel Takes On The 'War On The 4th Of July'
Malkin explained how her Twitter curation site often takes a look at "how these left wing Hollyweirdos" just can't help themselves.
They show their true colors and they did on July 4th, and those colors are not red, white and blue. People like Chris Rock, Aaron Sorkin, unfortunately Don Cheadle — who can be reasonable every once and a while — spending their Independence Day trashing America and complaining about torture and slavery instead of talking about the amazing opportunities we have in this country.
Comedian Chris Rock, for instance, had Tweeted the following:
Happy white peoples independence day the slaves weren't free but I'm sure they enjoyed fireworks

— Chris Rock (@chrisrock) July 4, 2012
In return, Malkin offered him a bit of advice:
All the people of color around the world who want to get into this country, I think that's who Chris Rock needs to talk to. Not that we'd whitewash our history, but yesterday was a day to celebrate the opportunity, the freedom, the uniqueness and exceptionalism of our country and these people in Hollywood refuse to see it even though they're the greatest beneficiaries. Chris Rock, you make a living running your mouth off, hey, just like me. That's something to celebrate. You can't do that everywhere else in the world, you know.
Actor Zach Braff issued the following response, prompting the hosts to ask, "What does that dialogue do between Braff and Chris rock? Doesn't that tear our country apart, Michelle? what value does that serve?"
Slaves weren't freed for another 90 years. So maybe just enjoy some of the fireworks…

— Zach Braff (@zachbraff) July 4, 2012
"Well, I think it exposes the myth of post-racial America that Obama was supposed to usher in," Malkin replied.
Watch, via Fox News:
Have a tip we should know? tips@mediaite.com