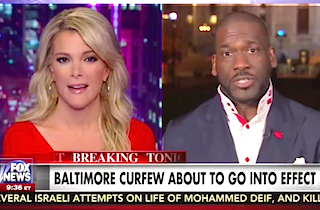 Baltimore Mayor Stephanie Rawlings-Blake used the word "thug" to describe people rioting in the street and ended up apologizing. President Barack Obama used the word in his remarks on the unrest and, so far, at least, is sticking by it. And Fox News' Megyn Kelly does not see what the big deal is.
On Thursday night, Kelly brought Baltimore Pastor Jamal Bryant on her show to debate the issue and from the start it was clear they were never going to see eye to eye. When Kelly challenged Rawlings-Blake's use of "misguided young people" instead of "thugs," Bryant replied, "I think that misguided police officers who break the spine of an uncharged black man, that could be considered a thug."
Later, when Bryant argued that society has "colorized" the word "thug," a sentiment that has been repeated over the past few days by everyone from Baltimore Councilman Carl Stokes to The Nightly Show host Larry Wilmore, Kelly stopped him to ask, "So, the mayor of Baltimore and Barack Obama, they are racist?"
"No," Bryant said, before accusing them of committing "black on black crime" with there words. "And for you to be smug about it and not see the seriousness of the offense," he added, as they proceeded to talk over each other for the next several minutes.
"I don't know, I might be wrong, but I see Barack Obama and he doesn't strike me as a racist guy," Kelly said, unexpectedly defending the president. "The mayor, she doesn't seem like a racist woman, the police commissioner, the city councilman, all of whom said that word, I don't think they have hate in their heart."
Watch video below, via Fox News:
[Photo via screengrab]
— —
>> Follow Matt Wilstein (@TheMattWilstein) on Twitter
Have a tip we should know? tips@mediaite.com