Pamela Geller Battles CNN Host over Garland Shooting: Why Is Media 'Targeting' Us?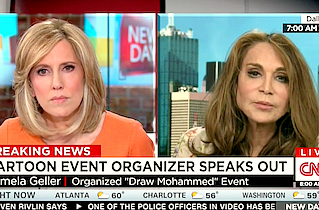 Hours after a shooting at a Muhammad cartoon event Garland, Texas that left the two gunmen dead, the event's sponsor and American Freedom Defense Initiative president Pamela Geller battled CNN's Alisyn Camerota over whether the incendiary event had provoked violence.
"Increasingly, we're abridging our freedoms so as not to offend savages," Geller alleged. "The very idea that if something offends me, or I'm insulted by something I'll kill you and somehow this is okay with members of the elite media, and academia, is outrageous."
Camerota read from the keynote speech given at the event disparaging Islam. Geller has made a career of warning of the "Islamization" of America; the Southern Poverty Law Center lists her as an extremist.
"He's entitled to his opinion, end of story," Geller said. "So what? So he said that. And frankly, what he said was true…The fact is that we need to have this discussion, there's a problem in Islam."
The conversation devolved into whether Geller had ever called Muslims "savages," which she said she had done once in her life. She argued she criticized only Muslims who kill over their beliefs. "I am anti-jihad, I am anti-Sharia," Geller said. "You, by spaying I paint with a broad brush, are saying all Muslims support jihad. Alisyn you sound very Islamophobic." It was that type of segment.
"The fact that we have to spend upwards of $50,000 in security speaks to how dangerous and how in trouble freedom of speech is in this country," Geller said. "And then we have to get on these news shows, and somehow we are, those that are targeted, those that were going to be slaughtered, are the ones who get attacked speaks to how morally inverted this conversation is."
"This is not an attack," Camerota replied, pointing out that they were at that moment having the exact conversation over speech and piety Geller had been calling for.
Watch the segment below, via CNN:
[
Image via screengrab
]
——
>> Follow Evan McMurry (@evanmcmurry) on Twitter
Have a tip we should know? tips@mediaite.com