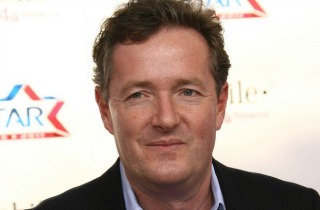 Piers Morgan said on Tuesday that his contract with CNN, where his daily show was canceled in February, has officially expired and that he won't be returning anytime soon.
"BREAKING NEWS: I am no longer a CNN employee," Morgan tweeted. When Morgan's show ended, he had said he would serve CNN in some type of special-host capacity. That's no longer happening.
He said he was offered a two-year contract with CNN to host 40 "big interview 'specials'" but that he declined.
"I decided not to accept it – and to try pastures new," he said.
Morgan, who is British and became known for his regular rants against pro-gun laws in the U.S., struggled in the ratings during his four years with CNN. His predecessor Larry King had said he "had trouble watching" Morgan, calling him "a bit pompous."
In his series of good-bye tweets, Morgan issued a warning to the National Rifle Association. "I wouldn't crack the champagne open too quickly though, NRA," he said. "I haven't finished with you lot yet."
Morgan also tweeted that he most wanted his CNN show to be remembered for an interview he conducted with conspiracist Alex Jones.
I was offered a new 2-year deal by @CNN boss Jeff Zucker to host 40 big interview 'specials'.

— Piers Morgan (@piersmorgan) September 2, 2014
But after considerable thought, I decided not to accept it – and to try pastures new.

— Piers Morgan (@piersmorgan) September 2, 2014
I wouldn't crack the champagne open too quickly though, @NRA – I haven't finished with you lot yet.

— Piers Morgan (@piersmorgan) September 2, 2014
[Image via Shutterstock]
— —
>> Follow Eddie Scarry (@eScarry) on Twitter
Have a tip we should know? tips@mediaite.com