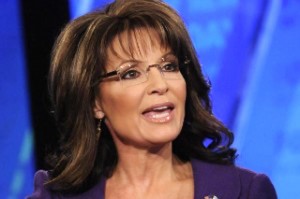 Here's a juicy one for the rumor mill: Mediaite has heard from multiple sources familiar with One America News Network (OANN) that staffers there are convinced Sarah Palin has been in talks to make her return to cable news via the conservative channel.
Two months ago Palin officially parted ways with Fox News. A month later Palin quietly shut down her subscription-based SarahPalinChannel.com. She has yet to make a cable news appearance since then, despite all the attention paid to her good friend Donald Trump's rising presidential campaign.
Our sources within OANN say that network is buzzing with Palin chatter, but no one we talked to who would actually have knowledge of any negotiations was able to officially confirm the rumors (or even say whether she'd join the network in a full- or part-time capacity.)
One OANN staffer photographed himself with Palin in the network's D.C. offices last week:
Met @SarahPalinUSA at work! She offered to help promote my book, The Sovereign! #oann check it out on Amazon! pic.twitter.com/eaKJIGNik6

— Pearson Sharp (@PearsonSharp) August 12, 2015
The network has not yet responded to an official request for comment but a Palin move to OANN would certainly make sense.
Earlier this year, the National Journal's Emma Roller profiled the upstart conservative network and its desire to emulate the success of Fox News but with an emphasis on "being a credible source of news."
While Palin isn't exactly considered a "credible source of news" to many, she would provide much-needed buzz for a right-leaning outlet looking to expand beyond its availability in 15 million American homes. Palin would be the big fish in a little pond, as opposed to her time at Fox where she competed with many other big-name celebrity conservatives for airtime.
And the conservative cable underdog's programming choices do tend to mirror Palin's sensibilities. Earlier this year, we covered one of their primetime host's viral rant about Muslims following the Chattanooga shooting that left four soldiers dead. Instead of "being friendly to jihadis," Tomi Lahren said on-air, "Show 'em what they're messing with. Put the fear of God in their desert."
Seems like Palin would be right at home, no?
UPDATE — 4:50 p.m. ET: One America News Network released a statement confirming that Palin will guest-host her own program — On Point with Guest Host Sarah Palin — the week of August 24. No word on whether this move is expected to become permanent:
Governor Sarah Palin to Guest Host One America News Network's Political Talk Show "On Point http://t.co/nnGhfDtdcW

— One America News (@OANN) August 18, 2015
— —
>> Follow Andrew Kirell (@AndrewKirell) on Twitter
This is an opinion piece. The views expressed in this article are those of just the author.